BOJ Must 'Do Something Meaningful,' Former Official Says
By and
He recommends central bank use program to assist borrowers

This could help offset problems from existing negative rate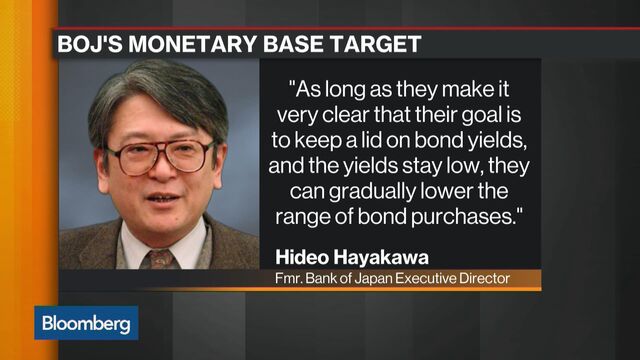 The Bank of Japan should abandon the monetary base target that's driving its unsustainable bond purchases while pursuing a negative-rate loan program to help companies and consumers, said a former BOJ executive director.
"The BOJ can't get out of this struggle as long it has this cursed monetary base target," Hideo Hayakawa, who retired from the central bank in 2013, said in an interview on Thursday. "Once they drop it, they can take a variety of other easing measures."
Hayakawa, 61, contends that there is no evidence that the monetary base target championed by Governor Haruhiko Kuroda is effective in spurring inflation. It should be dropped, and bond purchases scaled back and managed via a range rather than aiming for a specific number, he said.
"As long as they make it very clear that their goal is to keep a lid on bond yields, and the yields stay low, they can gradually lower the range of bond purchases," said Hayakawa, who also served as the central bank's chief economist.
At the same time, he said Kuroda ought to avoid taking a deeper dive on the existing negative interest rate charged on some funds commercial banks park at the BOJ. It should simultaneously take rates on its lending facilities from zero into negative territory, which would effectively pay some borrowers who take out loans.
Click here for an explanation of the existing negative-rate program.
People familiar with talks at the BOJ said in April that the central bank may consider minus rates on the Stimulating Bank Lending Facility.
Hayakawa said on Thursday that this could ease concerns among households worried about negative rates and also help companies to stimulate the economy. He suggested a negative rate of even minus 0.3 percent.
Comprehensive Review
Amid some rumblings of dissent inside the BOJ about an expansion of its record stimulus program, and outright criticism from some commercial banks in Japan, Kuroda said in July that there would be a comprehensive review conducted for the policy meeting on Sept. 20-21. He said the review will be aimed at helping the BOJ reach its 2 percent inflation target, rather than retreating from it.
A majority of economists surveyed by Bloomberg early last month said the review increased the likelihood of further expansion at the meeting.
"The BOJ must do something meaningful," said Hayakawa, who suggests the central bank take a hard look at the monetary base target, its communications and the potential costs of current policy.
Japan's monetary base has grown to about 80 percent of the size of the economy while the BOJ's favored consumer-price gauge has fallen for five months, reaching the lowest level since Kuroda took helm in March 2013.
Before it's here, it's on the Bloomberg Terminal.
LEARN MORE