Billionaire Urges $15 Billion Haircut for Indian Bad Debt
By and
Hinduja says efforts to buy bad loans thwarted by high prices

'With small haircuts they would not be able to find investors'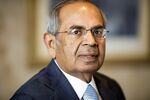 Billionaire Gopichand Hinduja says India's banks are placing too high a price on their distressed assets.
That's thwarting his Hinduja Group and other investors keen to buy bad debts, according to London-based co-chairman of the industrial conglomerate. He is among four brothers controlling the closely-held entity that has interests in automobiles, finance, media and energy. India's government in February estimated the banking industry's stressed assets, which include restructured and soured loans, at roughly 8 trillion rupees ($120 billion).
As much as "$15 billion of haircuts are required to be taken by the sector, of which over 90 percent would need to be by nationalized banks," Hinduja wrote in an e-mail. "Indian banks and authorities need to understand that with small haircuts they would not be able to find investors."
Mounting bad loans and inadequate risk buffers at state-run banks have prompted the Reserve Bank of India to initiate a cleanup of lenders' balance sheets, a task high on the agenda for Urjit Patel, who takes charge as Governor on Sept. 4. Canada's Brookfield Asset Management Inc. and U.S. private equity firm Apollo Global Management LLC are among investors seen partnering local firms to invest in stressed assets in Asia's third-largest economy.

Hinduja's views are echoed by Ajay Piramal, billionaire chairman of the realty-to-healthcare Piramal Group, who says the stressed-asset sales won't succeed unless banks are willing to pare down valuations.
"It's as much in the interests of the banks to see that they resolve the issue," Piramal said in an interview in Mumbai on Thursday. His Piramal Enterprises signed a pact last month with Bain Capital to set up a fund to invest in distressed debt in India.
The proportion of stressed assets in India's banking system surged to a 16-year high of 11.5 percent as of March 31, central bank data show. State-run lenders account for more than 70 percent of the total outstanding advances, and outgoing RBI Governor Raghuram Rajan has set a March 2017 deadline for lenders to clean up their balance sheets by increasing provisioning, a move that has weighed on their profitability.
Banks in Western countries at times pare down loans by up to 60 percent of their value during troubled times, according to Richard Bove, U.S.-based vice president of equity research at Rafferty Capital Markets LLC.
'Raising Eyebrows'
Indian peers are more wary and tend to wait for the economic tide to turn, said Hinduja, whose group is looking at stressed assets in businesses including solar energy.
"In India, owing to the fear of raising unnecessary eyebrows and being accused of selling assets cheap, banks do not want to bring down their valuations much," he said.
Prospective buyers for stressed assets need not be limited to securitization or asset-reconstruction companies, the RBI said in a statement Thursday. Banks may also offer assets to other banks, non-banking financial companies and financial institutions, the central bank said.
Prime Minister Narendra Modi's government was said to consider forming a three-member panel to approve the bad-loan settlement plans of state-run banks, The Economic Times newspaper reported in April, citing an official it didn't name. Such a move will whet the appetite of investors looking to pick up such assets.
Read: Banks With Assets No One Wants Undercut India's Debt Recast Plan
That includes Canada Pension Plan Investment Board, which in March partnered with billionaire Uday Kotak's Kotak Mahindra Group for a total investment of as much as $525 million in Indian stressed assets. Brookfield Asset in July signed a pact with State Bank of India to set up a joint venture for similar investments.
ICICI Bank Ltd., India's largest private lender by assets, will seek to sell about four of its largest nonperforming loans to an asset-reconstruction company it plans to set up as a joint venture with Apollo Global, a person with knowledge of the matter said in August.
Industries such as power, infrastructure, and steel have a high concentration of stressed assets, but also "long-term latent growth potential," which could mean better profitability in coming years, according to Mihir Chandra, Hong Kong-based head of Asia research at SC Lowy, an independent fixed-income firm.
"Indian banks need to get more realistic about bad loans and take appropriate haircuts on stressed assets to clean up their balance sheets," said Chandra. "There is a pricing mismatch currently."