Bears Haunt Brazil as Short Bets Jump on World's Best Stocks
By and
Leveraged short ETF attracted $20 million in two months

Ibovespa has dropped about 3% since peaking in mid-August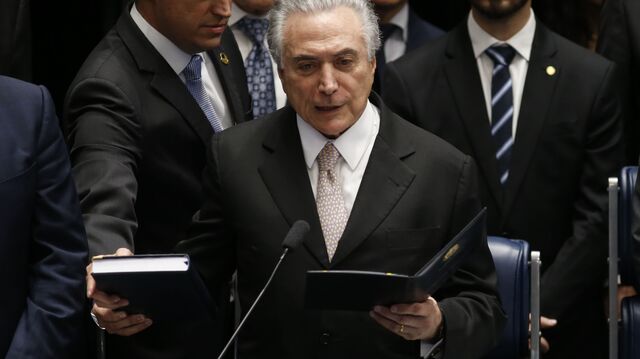 A tiny exchange-traded fund is signaling that Brazil's world-beating stock rally may be coming to an end.
The $51 million ProShares UltraShort MSCI Brazil ETF, which rewards investors when Brazilian stocks decline, attracted $20 million of inflows over the past two months, according to data compiled by Bloomberg. That's almost twice the amount of bullish wagers that went into BlackRock Inc.'s $3.9 billion ETF that tracks the country's equities. At the same time, foreign investors have pulled the most out of Brazil's local shares since May.

The bearish sentiment reflects skepticism that newly installed President Michel Temer will easily win support for measures aimed at bolstering the economy and curbing a near-record budget deficit after the impeachment of Dilma Rousseff on Wednesday. The Ibovespa has surged 64 percent this year in dollar terms on bets Temer could fix Brazil, pushing its price relative to the value of companies' underlying assets to the highest in almost two years.
"After the rally this year, the prices of the stocks don't seem to reflect how hard it will be to effectively implement the reforms," said Dan Raghoonundon, a Latin American equity analyst at Janus Capital Group Inc. in Denver. "The market was taking the impeachment for granted, and now the real challenge starts."
As Brazilian stocks surged, it's been a brutal year for investors in the ProShares ETF, a leveraged fund that is structured to rise 2 percent for every 1 percent decline in the MSCI Brazil 25/50 Index. The ETF has declined 74 percent this year.
The losses haven't deterred committed bears. The ETF has received inflows in six of the past seven months, attracting a total of $70 million.
Money flowing to the BlackRock fund has all but dried up over the past four months. The iShares MSCI Brazil Capped ETF has lured only $13 million since the end of April, compared with a total of $716 million in the previous two months.
Stocks jumped in the lead up to the decision in May to suspend Rousseff and make Temer the acting president. He took over pledging to rein in government spending and introduce more business-friendly policies. After two years of recession and an unprecedented corruption scandal that hit some of the country's biggest companies and most important politicians, there are signs the economy could be on the way to recovery with confidence among consumers and executives growing.

Temer, a 75-year-old constitutional lawyer, is facing push back to austerity measures, such as caps government spending and changes to pension benefits. Prospects that a rift in his coalition could deepen after impeachment has made investors more cautious and taken some steam out of the stock rally.
For a report on Brazil's economy and politics, click here
The Ibovespa has dropped 3.4 percent in dollars since reaching an almost-two-year high Aug. 17. Foreign investors have pulled a net 1.5 billion reais ($465 million) out of Brazilian stocks this month, the biggest outflow since May, according to data from the exchange. Still, it's price-to-book ratio is at 1.48 times, near the highest since September 2014.
"Brazil is up tremendously from trough to peak in 2016," said Paul Weisbruch, a vice president of ETF and options sales and trading at Street One Financial LLC in King of Prussia, Pennsylvania. "Some likely think it is well overdone."
Before it's here, it's on the Bloomberg Terminal.
LEARN MORE