Where Ferraris Get Made, Merkel Reassures Renzi on Budget Rules
By and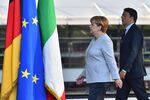 German Chancellor Angela Merkel, flanking Prime Minister Matteo Renzi at the home of Ferrari, said she was convinced that a "rational solution" could be found to her Italian host's need for budgetary leniency.
Italy is the latest pit stop of Merkel's post-Brexit tour of the European Union and her visit comes on the heels of a devastating earthquake. To welcome her, Renzi picked a location that spells out an emblematic success story in a time of economic doldrums: the factory churning out Italy's luxury cars in Maranello, northern Italy.
"I'm very certain that considering the catastrophe that has taken place, considering the standards that Matteo Renzi has referred to -- the transparent procedure -- that there are possibilities in the stability and growth pact and flexibility in the pact are absolutely sufficient for the Commission," Merkel told a joint news conference.
Renzi said his government plans to use "everything which is necessary," an appeal for the EU to take into account the economic cost of the deadly quake last week in central Italy. Even before the catastrophe, Italy had been seeking a reprieve. Renzi has staked his political future on a referendum on constitutional reform due November.
Michelangelo's David
This is not the first time Renzi goes all out to impress Merkel. Last year, there was the conference at the foot of Michelangelo's statue of David in Florence. Just last week, she and President Francois Hollande were invited aboard the Garibaldi warship for talks over dinner, with the island of Ventotene as a backdrop.
The personal chemistry between Merkel and Renzi has been tempered by their different takes on spending. Merkel's desire to impose austerity on European partners is countered by the Italian leader's growing appetite for more leeway to revive a stagnant economy, even if that means putting off debt reduction.
The red-carpet treatment hasn't stop Merkel from spelling out her truth: There is only so much bending of the rules. While there is wiggle room, "we have to apply in a smart way," she said last week.
Click here, to read a deep-dive into the dilemmas facing Merkel
As the longest-serving incumbent leader in the 28-nation bloc, what Merkel says carries extra weight. Hers is also the dominant economy. Her sojourn in the Italian hinterland is part of a whirlwind tour in which she's met with 15 other heads of government ahead of a Sept. 16 summit in Bratislava. That meeting will plot a course for the bloc after Britain threw a wrench in Europe's six-decade project of integration by voting to leave the EU.