Ukraine to Start Delayed Asset-Declaration System Linked to Aid
by
Launch, originally planned for April, held up over e-security

Head of communications service says system is safe to use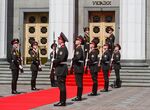 Ukraine got the go-ahead to start a delayed online system that monitors the incomes and assets of government officials, a key step to unfreezing the nation's $17.5 billion international bailout.
Having held up the implementation of the electronic-declaration system, most recently over security concerns, Leonid Yevdochenko, the head of the Special Communications Service, said it was safe to use. It will go into force Sept. 1, five months later than originally envisaged.
"As of today, the Special Communications Service has removed all problems caused by the developer" of the system, Yevdochenko told reporters Wednesday in the capital, Kiev. "We'll pass the certificate to the National Agency for Corruption Prevention, which will allow the electronic asset-declaration system to be launched legitimately."
Ukraine twice missed deadlines to launch the declaration system, part of efforts to stamp out years of post-Soviet corruption in the wake of the country's second revolution in a decade. The delays drew criticism from the European Union and the U.S., and hampered efforts to restart Ukraine's International Monetary Fund rescue loan, which ran aground as promised reforms were postponed.
Ukraine ranks 130th in Transparency International's Corruption Perceptions Index, showing little improvement since protesters ouster Russian-backed President Viktor Yanukovych in 2014. There have been no convictions over the billions of dollars the government says Ukraine's post-revolution leaders stole.
Before it's here, it's on the Bloomberg Terminal.
LEARN MORE