U.S. ELECTION WRAP: Trump 'Bag of Surprises' Equals Uncertainty for Markets
Donald Trump's last-minute trip to Mexico is the latest example of the kind of unpredictable behavior that could roil markets.
By and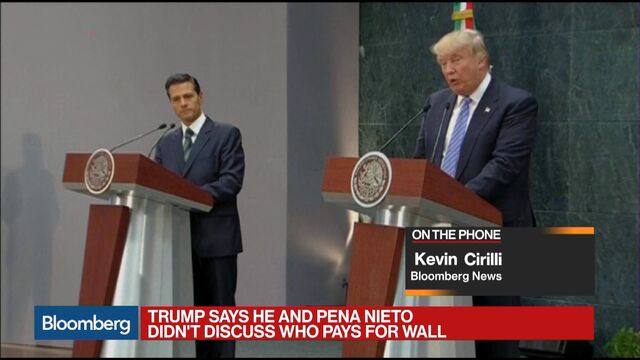 Donald Trump's last-minute journey to Mexico is the latest example of how the Republican presidential nominee is keeping U.S. market-watchers guessing about what will happen on Election Day.
"Trump has proven he's got a bag of surprises for us and this trip to Mexico is just another one," Stephen Gallagher, head of research in the Americas at Societe Generale, told Bloomberg Television. "He surprised us throughout the Republican primary so we can't rule him out."
Gallagher said even though his firm doesn't view a Trump presidency as likely, the New York real estate developer "could surprise us yet"

The chance of Trump winning the White House is about 25%, odds that are "serious, but not conclusive," he wrote in a note to clients earlier this month
A Trump presidency likely would roil a broad spectrum of markets, at least in the short term, according to Gallagher
It's the "uncertainty factor," he told Bloomberg TV. We don't know Trump's policies with any great confidence and markets "abhor" uncertainty

But a bigger potential impact on the economy might be the split within the Republican Party, he said

Right now, GOP leadership among the party's various factions is in a "weakened position" as the outlook for Democratic presidential nominee Hillary Clinton is "good" and her party has a solid chance to win control of the Senate
If there's not a "strengthening" of GOP leadership "it could be a long period of Democrats in control of Washington and policy": Gallagher

FiveThirtyEight's constantly shifting "polls-plus" election forecast gave Clinton a 71.3% chance as of late this afternoon of prevailing in the presidential race
Click here to get the U.S. Election Wrap by e-mail every afternoon

MEXICO
Trump and Mexican President Enrique Pena Nieto made public comments and took questions from reporters after their closed meeting in Mexico City 
Trump said he and Nieto discussed the issue of a border wall but didn't talk about how a wall would be funded, steering clear of the Republican's insistence that Mexico would foot the bill 
Nieto said Mexicans have been hurt by Trump's prior comments about them and today's meeting was meant to put an end to divisive rhetoric 
Nieto also said gun traffic at the border must be stopped and that his country will accelerate cooperation on that front; he addressed NAFTA as well, saying his country is willing to modernize the trade deal for mutual good
Trump, calling Nieto a "friend,'' said he has "tremendous respect'' for the Mexican leader and that a strong, prosperous Mexico is in the best interest of U.S.
The GOP nominee also said that a physical border is needed and that NAFTA must be updated because it has benefited Mexico far more than the U.S.
Read Bloomberg post-meeting story here 
Earlier, Trump engaged in a Twitter squabble with former Mexican President Vicente Fox before touching down in Mexico

Fox told CNN he doesn't know why Mexican President Enrique Pena Nieto invited Trump to visit; the GOP nominee isn't welcome and is disliked in the country, Fox said
"It's nothing more than a political stunt" in effort to boost "sinking poll numbers": Fox

Trump fired back via Tweet that Fox earlier had asked him to visit

Fox in May said Trump should be invited to learn about the "real Mexico," and he responded via Twitter today to Trump that "I invited you to come and apologize to all Mexicans. Stop lying! Mexico is not yours to play with, show some respect"

Trump is set to travel from Mexico to Phoenix to deliver a speech tonight that aims to clarify confusion over his immigration policies

Silicon Valley may be listening for more clarity on Trump's position on a proposed Homeland Security Department rule that would make it easier for immigrant entrepreneurs to stay in the U.S.; hear Bloomberg BNA tech and telecom reporter Michaela Ross discuss the issue on Bloomberg Radio here

Clinton, speaking today at the American Legion National Convention in Cincinnati, said her Republican rival can't undo a raft of insults by "dropping in" on Mexico for a few hours

The Democratic candidate also received an invitation to meet with Mexico's Nieto; Clinton last met with the Mexican president two years ago and would talk with him again "at the appropriate time," her campaign said

See full story by Bloomberg's Mark Niquette on Clinton's address earlier today and her jab at Trump

MORE MARKET REACTIONS
Billionaire hedge fund manager Leon Cooperman, a registered independent, told CNBC that while he has "problems" with Clinton, she "for sure" would be better for the market as president than Trump
Clinton is "more predictable" and more "presidential," said Cooperman, once the head of Goldman's asset-management unit
Still, neither Clinton nor Trump will be getting Cooperman's vote in November; the registered independent said he plans to write in a candidate
On Trump: "I don't think he's an anti-Semite. I don't think he's a bigot. But he's not presidential," and "I think he's dangerous"
Cooperman also told CNBC a neighbor in Florida asked him to give money to the Clinton campaign, and he said he agreed to do so if he could ask her a question at the $1k-per-person cocktail party fundraiser

He wanted to point out in his question, he said, that many people of wealth, the so-called 1%, do great good for society
Cooperman said he later repeated his question to a Clinton aide and the campaign returned his money

ON WISCONSIN
Clinton's 13-point lead over Trump in Wisconsin has virtually evaporated, according to latest Marquette Law School poll

Her edge in the Badger State, which has 10 electoral votes, has narrowed to 3 points
Clinton is supported by 45% and Trump by 42% of likely voters; 10% said they will support neither candidate

A Monmouth University poll of the state's likely voters also out today showed Clinton with a 5-point lead over Trump in a 4-candidate race
The RealClearPolitics average of polls, including these latest, shows Clinton with a 4.4-point lead in Wisconsin in 4-way race

ETC
An e-mail that Clinton sent almost four months after she left the State Department was partially redacted before being publicly released, raising questions about whether she conveyed classified information as a private citizen

The May 2013 e-mail, obtained by the Republican National Committee, joins more than 2,000 messages the former secretary of state sent or received through her private server during her tenure that have been labeled "confidential," a low level of classification
See full story by Bloomberg's Ben Brody here

Richard Painter, the chief White House ethics lawyer from 2005 to 2007, wrote about the "Real Clinton Foundation Revelation" in a New York Times opinion piece
Washington Post's Dana Milbank took a look at Trump's "Surrogate Circus"
Bloomberg's Max Abelson and Zachary Mider take a look at Trump's top fundraiser, Steven Mnuchin; read full story here

CONGRESSIONAL ELECTIONS
SENATE RACES (Republicans hold 54-46 majority)
AZ: Republican Sen. John McCain said in post-primary video released today that if Clinton is elected president, "Arizona will need a senator who will act as a check, not a rubber-stamp, for the White House"

McCain in five-minute video didn't mention Trump, focused instead on differences with Democratic challenger, Rep. Ann Kirkpatrick, on issues including taxes, spending, her support of Obama administration's health-care overhaul
McCain defeated ex-state Sen. Kelli Ward in GOP primary 52%-39%; Kirkpatrick unopposed in her party's primary

FL: Republican Sen. Marco Rubio challenged Democratic Rep. Patrick Murphy to six live televised debates, Politico reported

Rubio yday trounced homebuilder Carlos Beruff in primary by 72%-18%, winning all 67 counties
Murphy won Democratic race with 59%, compared with 18% for Rep. Alan Grayson, 15% for lawyer Pam Keith; Murphy won 60 counties, while Grayson won seven and finished in fourth place in populous Miami-Dade and Duval counties

NH: Senate Majority PAC, a Democratic super-PAC, launched back-to-school-themed TV ad accusing GOP Sen. Kelly Ayotte of voting to "cut Pell Grants" and "raise student interest loan rates"

Ad cites procedural votes on House Republican budget blueprints and Ayotte's March 2015 vote against Democratic Sen. Elizabeth Warren's proposal to allow borrowers to refinance student loans at lower races, while requiring people making >$1m/yr to pay minimum 30% federal tax rate
Ayotte in Sept. 2015 co-authored bill that would allow borrowers to refinance federal student loans in private market
Democrat Maggie Hassan, opposing Ayotte's bid for 2nd term, released TV ad saying she has amassed good fiscal-policy record as governor by balancing budget without income or sales tax and "working with anyone and everyone to create a better environment for business innovation"

OH: Republican Sen. Rob Portman said in statement he will introduce legislation to curb spread of fentanyl and carfentanil by drug traffickers

Portman has highlighted his co-authorship of new law to combat opioid abuse; Democrats, including Portman opponent Ted Strickland's campaign, have noted measure authorizes drug-treatment programs without funding them

PA: Democrat Katie McGinty released proposals she said would boost manufacturing in her state, with focus on trade, transportation, energy, tax policy

McGinty opposes Trans-Pacific Partnership and supports a national infrastructure bank to fund large-scale projects and bill to provide tax credits for businesses that move outsourced jobs back to the U.S.
McGinty's "manufacturing white paper" also attacked Republican Sen. Pat Toomey for voting for trade pacts and to extend normal trade relations with China; Toomey this month announced opposition to TPP

WI: Two new polls of likely voters offer significantly different results in race between GOP Sen. Ron Johnson and Democrat Russ Feingold

Monmouth University survey gives Feingold 13-pt lead, Marquette Law School poll puts him 3 points ahead
HOUSE RACES (Republicans hold 247-186 majority)
FL-05: Democratic Rep. Corrine Brown became fifth House member denied re-nomination this year, losing primary yday to ex-state Sen. Al Lawson after unfavorable redistricting and her indictment on federal fraud charges

Democratic Rep. Chaka Fattah of Pa. also unseated in primary after his indictment; Republican Reps. Renee Ellmers of N.C. and Randy Forbes of Va. lost under new boundaries for congressional districts in their states; GOP Rep. Tim Huelskamp of Kan. ousted after clashing with national party leaders and antagonizing agriculture groups by voting against farm bill
Lawson shoo-in to win Nov. election in heavily Democratic Jacksonville- to-Tallahassee district

IA-01: Democrat Monica Vernon's campaign released TV ad spotlighting praise for her work as Cedar Rapids councilwoman to help city recover after floods in 2008

Vernon opposing one-term Republican Rep. Rod Blum in Democratic-leaning district that also includes Waterloo, Cedar Falls

IA-03: GOP Rep. David Young said in TV ad he continues to support "no budget, no pay" legislation that "sure didn't make me very popular in Washington"

Young referring to legislation that would hold lawmakers' pay in escrow account if Congress doesn't adopt budget resolution
Young's bid for second term opposed by Democrat Jim Mowrer, Iraq War veteran and former Pentagon aide, in politically competitive district that includes Des Moines, Council Bluffs, Ankeny

NY-03: A federal judge rejected Republican Jack Martins's request to delay general election to Dec. 6, State of Politics blog reported

Martins asked for delayed general election after judge set new Oct. 6 primary between Martins and Philip Pidot
Pidot petitioned for new vote after being excluded from June primary that Martins won uncontested
Martins is state senator backed by GOP leaders; Democratic nominee is Tom Suozzi, ex-Nassau County official who's running to succeed retiring Democratic Rep. Steve Israel in competitive district that includes northern Long Island, part of Queens

UT-04: GOP Rep. Mia Love's campaign released TV ad featuring testimonials from Utahns about her first term in Congress

Ad highlights bill Love introduced to address college affordability, her work to help military veterans
Democratic lawyer Doug Owens in TV ad said his great-grandfather was among pioneers "who looked after each other and worked together to build our state," in contrast to politicians in today's Washington who "just look out for themselves"
Love and Owens in rematch of 2014 race that she won 50%-47%; district leans Republican in presidential elections
Before it's here, it's on the Bloomberg Terminal.
LEARN MORE