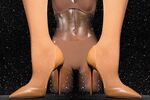 Until recently, the fashion world's definition of "nude" all but excluded anyone who wasn't white. Not Caucasian? Good luck finding something to wear under a white top or pants, or pairing leg-elongating heels with a pencil skirt.
That's changing. Catalina Girald's company, Naja, makes bras and underwear in six flesh-toned shades. A native of Colombia, Girald says she'd long struggled to find either item in a shade that would blend in with her skin color. (The former gymnast got the idea when she was watching the 2012 Olympics and saw Gabby Douglas wrap her ankle in athletic tape. "I noticed that her wrap didn't match her skin tone," Girald says.) Naja is joined by Nubian Skin, Ade Hassan's line of lingerie for darker shades that started in the U.K. in 2014 and is now sold in the U.S. at Nordstrom. There's also Christian Louboutin, whose Nude Collection—high heels in seven shades—hit stores in 2013. It added the popular Solasofia flats to the line in March.
Given how inclusive this phenomenon is, it's only fitting that guys haven't been left out. Björn Borg, the Swedish tennis star turned underwear impresario, came out with a line of six nude boxer briefs earlier this spring. Jonas Nyvang, Borg's director of marketing, says the company sold out all 20,000 pairs it produced.
Before it's here, it's on the Bloomberg Terminal.
LEARN MORE