The 3 Percent Raise Is Pathetic. Why Are We Still Getting It?
Yearly pay increases haven't budged in years.
By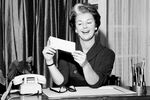 For the fourth year in a row, the annual pay raise awarded to U.S. employees will hold steady at 3 percent, according to a new study. It's just another sign that companies have started to rethink the way they compensate employees.