Lotte Patriarch Has 'Limited' Mental Abilities, Court Finds
By
Court rules Shin Kyuk Ho, 93, has limited mental abilities

Decision sets back elder son's efforts to oust brother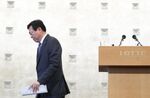 A South Korean court appointed a law firm as the legal guardian for the Lotte Group's founder, dealing a blow to his elder son's efforts to regain control of one of South Korea's largest conglomerates.
The Seoul Family Court said on Wednesday it concluded that Lotte patriarch Shin Kyuk Ho, 93, has "limited mental abilities" to work due to illness and age. It appointed a local law firm, The Sun, to be Shin's guardian, deciding against naming a family member because of a "family conflict."

The ruling is the latest development in an ongoing family feud that has rocked one of the most well-known corporate names in Korea and Japan. The founder's two sons have been in a bitter fight to wrest control of a family-run empire that spans 93 companies generating more than $86 billion in annual revenue.
The elder son, Shin Dong Joo, has been trying to oust his younger brother, who took control of the conglomerate last year in a boardroom coup. The older brother argued that his father intended to pass the helm to him and distributed videos of the father saying the conglomerate should be run by his elder son.
For a story on Lotte shareholders blocking ouster attempt: click here.
Shortly thereafter, the founder's younger sister Shin Jung Sook filed a petition with the court questioning her brother's mental capabilities and requesting that a legal guardian be appointed.
Weapon lost
The older brother has "lost his weapon," said Park Ju Gun, president of corporate watchdog CEOSCORE in Seoul. With the court's decision, Shin Dong Joo now has to get the consent of the legal guardian to assert his case.
Shin Kyuk Ho's legal representative plans to appeal the decision, said a spokesman for the founder. Lotte Group, controlled by the younger son, said in a text message it supported the court ruling.
The court decision also comes as Lotte Group reels from last week's death of its No. 2 executive, whose body was found just hours before he was scheduled to be questioned by prosecutors investigating allegations of slush funds, embezzlement and tax evasion at the group.
The executive's death, tentatively labeled a suicide by police, follows last month's arrest of Shin Young Ja, sister of Lotte Group's chairman, on charges of bribery and embezzlement. Shin is accused of taking kickbacks from a cosmetics maker for preferential treatment of its products in Lotte duty-free shops, as well as allegedly embezzling more than $3.5 million from a company owned by her son. Shin has denied the allegations.
Meanwhile, the probe continues. Shin Dong Joo, the disgruntled older brother of Lotte's chairman, went to the Seoul prosecutors' office on Tuesday for questioning after being summoned.