Solvay Says Brexit Puts Question Mark Over More U.K. Investments
By and
Chemical maker investing at least 100 million euros currently

U.K. vote to leave E.U. 'won't be a positive' for investment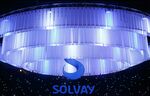 Solvay SA, which is investing at least 100 million euros ($111 million) in the U.K., will think twice about committing any more major funds in the country after Britain's vote to leave the European Union, according to Chief Executive Officer Jean-Pierre Clamadieu.
The Belgian chemical maker manufactures detergent additives and materials for the aerospace industry in the U.K., with output exported predominantly to Europe, the CEO said in an interview with Bloomberg TV on Tuesday. The pound's devaluation has made those products cheaper for buyers on the continent, he said.

"Long term, it will create some questions on where we should put strategic investments," Clamadieu said. "It will not be a positive for future investment in this country."
Solvay sees more sense in investing in markets where the company sells products than expanding in the U.K. if the country leaves the E.U., Clamadieu said. Aerospace is a cornerstone of the CEO's strategy following the purchase of Cytec Industries Inc. for about $6 billion a year ago. The deal included a site in Wrexham, England, that was the main technical and customer services center for Cytec's aerospace materials business.
Airbus Partnership
The integration of Cytec is "going very well," Clamadieu said, and the main challenge is generating extra sales from the combination of the businesses. Solvay is working with Airbus Group SE on introducing a new range of high-end polymers and composites, and so far the feedback has been "positive," he said.
"Let's see how these projects come to fruition," the CEO told Bloomberg's Caroline Connan. "We've already had some products approved."
Solvay shares have declined 0.2 percent in Brussels this year, valuing the company at 10.4 billion euros.
Having made acquisitions, the next portfolio changes are likely to be disposals, according to Clamadieu. One division expected to be sold is Acetow, which makes materials for cigarette filters. After years of resilient earnings, the unit has suffered from de-stocking, spreading outward from China. The situation is now improving and orders are normalizing, the CEO said, adding that more information on strategy will be given at a Sept. 29 investor day.