Dilma Rousseff Ousted in Historic Brazil Impeachment Trial
Anna Edgerton, Francisco Marcelino and Raymond Colitt
With 61 votes against 20, the Senate found Rousseff guilty

Michel Temer takes over presidency until end of term in 2018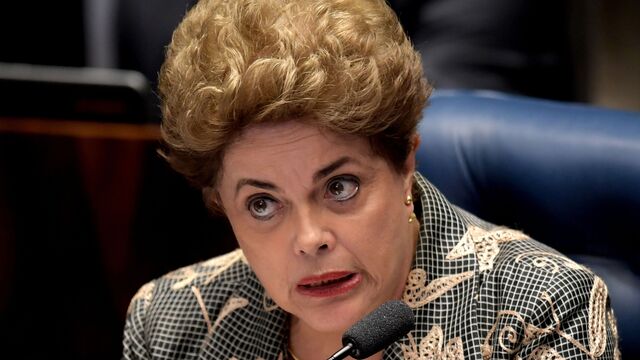 Dilma Rousseff lost her presidency in Brazil's nine-month impeachment saga, paving the way for a fundamental shift in economic policy after 13 years of her party's leftist rule.
With 61 against 20 votes, the Senate found Rousseff guilty of bypassing Congress to finance government spending, allowing her vice president Michel Temer to serve out the term until the end of 2018. Rousseff vowed to appeal the vote. In a surprise move that diverged from the Constitution, legislators allowed her to hold public office, including as a civil servant, in the future.
The decisions cap a tumultuous period that began after Rousseff's narrow re-election victory in 2014 and exacerbated the worst recession in decades. Many legislators celebrated her ouster by singing the national anthem, while residents of the capital set off fireworks. Temer was sworn into office in a Senate ceremony on Wednesday afternoon. He is scheduled to address the nation in a pre-recorded broadcast later in the day.
Impeachment has been a traumatic experience for this young democracy, coming on top of a two-year corruption scandal and unemployment at its highest in over a decade. With his mandate as Brazil's leader confirmed, Temer hopes he can now push more forcefully to put the economy back on track, a challenge that includes unpopular austerity measures.
For an in-depth look at investment in Brazil, click here
From Guerrilla to Impeachment: the Dilma Rousseff Story
"Reforms become easier with impeachment out of the way," said Edwin Gutierrez, the London-based head of emerging-market sovereign debt at Aberdeen Asset Management Plc, which oversees $420 billion. "That's not to say it will be smooth sailing."

Brazil's real see-sawed after the vote and was 0.6 percent stronger by mid-afternoon at 3.22 per dollar, while the benchmark Ibovespa stock index traded 1.7 percent lower on weaker commodity prices.
In a televised speech at the presidential palace she must now vacate, Rousseff pledged a tough opposition to the Temer administration and warned that minorities and women would suffer under his conservative rule. If not herself, somebody else would pick up the banner she and her predecessor Luiz Inacio Lula da Silva carried, she said.
"They sentenced an innocent person and carried out a parliamentary coup," Rousseff said, flanked by supporters.
For a look at the implications of impeachment, click here
Markets initially surged after Rousseff was suspended in May and Temer took over on pledges to rein in government spending and introduce more business-friendly policies. There are signs the economy could be on the way to recovery as consumers and executives gain confidence. Retail sales and industrial output are inching higher and economists forecast a return to growth in the fourth quarter.
Behind the narrow allegations of breaking budget laws, what led a majority of Brazilians to back impeachment was a sense that Rousseff mismanaged the economy and was lenient on rampant corruption.
Growing Opposition
Temer, who is seen by many Brazilians as part of the same political establishment they have come to distrust, must now prove he won't do the same. Only 14 percent of those polled in a Datafolha opinion survey in July considered the Temer administration good or very good compared with 13 percent for the Rousseff administration in April.
Three of Temer's ministers have resigned amid allegations of corruption or trying to cover up graft. The Senate chief, a member of Temer's party, is under investigation for corruption as well. All four deny wrongdoing.
The 75 year-old constitutional lawyer also faces growing opposition within his own rank and file to unpopular austerity measures, such as caps on civil servants' pay and cuts to pension benefits. Prospects that a rift in his coalition could deepen after impeachment has made investors more cautious and taken some steam out of the market rally.
"Temer's ability to win parliamentary support for his fiscal reforms is now being put to the test," said Nicholas Spiro, a partner at London-based Lauressa Advisory Ltd., which advises asset managers.  "This is the moment of truth for Brazilian assets."
For now, Temer is turning abroad in search of support. Wednesday afternoon, only hours after the Senate impeachment vote, he will embark on the first of a series of international trips to attract investors and show the world that he is Brazil's legitimate leader.
— With assistance by Paula Sambo, Samy Adghirni, Brendan Walsh, Andre Soliani Costa, and Mario Sergio Lima
Before it's here, it's on the Bloomberg Terminal.
LEARN MORE