markets
Rousseff Is Ousted, and Investing in Brazil Is Getting Trickier
By , , and
Stocks have surged in 2016, and some investors see more gains

Local government bonds are a favorite investment at Aberdeen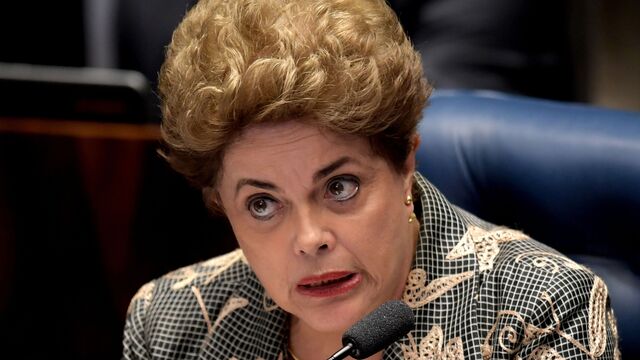 For months, investing in Brazil has been a breeze. Buying into any asset class delivered some of the world's biggest gains on wagers that President Dilma Rousseff was about to be ousted and new leadership would restore growth and curb a record fiscal deficit.
Now that Rousseff has been impeached -- the Senate voted 61-to-20 for her removal -- picking stocks and bonds is about to get more complicated. Here are what some of the country's top analysts and investors are suggesting for the months ahead as newly installed President Michel Temer starts his administration with a mandate to tame inflation, pull Brazil out of its worst recession in a century and shore up the country's budget.

Corporate Bonds
While S&P Global Ratings has warned that impeachment euphoria has blinded traders to risks in Brazilian corporate bonds, Patrik Kauffmann says there are still opportunities to profit for selective investors even after overseas bonds returned almost double the emerging-market average. The money manager at Solitaire Aquila Ltd. in Zurich has been overweight Brazil for the past year, and his foreign allocation fund has outperformed 97 percent of its peers in 2016.
Kauffmann is bullish on bonds from state-owned and state-controlled companies, especially Petroleo Brasileiro SA. Overseas notes from the oil producer have returned 34 percent this year on bets less government interference would boost its bottom line. Kauffmann says yields on the company's benchmark securities could fall 2 percentage points over coming months, putting its borrowing costs closer in line with its Mexican counterpart, state-owned Petroleos Mexicanos.
The money manager also said utility Centrais Eletricas Brasileiras SA and lender Banco do Brasil SA will continue to rally. Kauffmann says to avoid notes from exporters such as Embraer SA, Vale SA and BRF SA, which are already trading in line with global peers.
Stocks
The Ibovespa equity index has surged 63 percent this year in dollar terms, the most among more than 90 benchmark gauges tracked by Bloomberg. While the biggest gainers this year have been commodity producers, some of the best bets are companies that depend on domestic demand, according to Matheus Tarzia, a partner at Neo Investimentos. He said drugstore-chain Raia Drogasil SA and Fleury SA, a medical-services provider, should continue to perform well, along with some services providers like software maker Totvs SA. The Navitas Master stock fund, managed by the firm, is beating 94 percent of its peers this year, according to data compiled by Bloomberg. 
Adeodato Volpi Netto, the head of capital markets at Eleven Financial Research, founded his research firm a year ago in Sao Paulo on a bet that Brazil's turnaround would fuel interest in the stock market. He said steelmakers should benefit from perceptions that industrial output will increase under the new government, and recommends shares of Gerdau SA.
He also favors lenders, particularly the banks that aren't state controlled, on expectations they'll benefit from an economic recovery.
Market players are split on the impact impeachment will have on equity issuance. While Morgan Stanley says the drought in initial public stock offerings will continue, Carlos Constantini, the head of equity at Banco Itau BBA SA, the second-largest equity underwriter in Brazil this year, says companies will be tempted to go to market because there are still a lot of foreign investors seeking opportunities in Brazil. Just Tuesday, medical diagnostics company Alliar Medicos a Frente said it intended to sell shares in an IPO, potentially ending a 14-month drought in Brazil.
Government Bonds, Swaps, Currency
After a 49 percent return in local currency government bonds in dollar terms this year, Aberdeen Asset Management Plc says more gains are in store, especially in longer-term bonds, on the view that local interest rates have room to decline as inflation slows.
"If you love the rates story like we do, you gotta go long and embrace duration," said Edwin Gutierrez, the London-based head of emerging-market sovereign debt at Aberdeen, which oversees $420 billion.

The currency, on the other hand, won't appreciate much further, he says, and after this year's best-in-the-world 23 percent surge is vulnerable to declines should the global economy worsen. Arnaud Masset, an analyst at Swissquote Bank SA in Gland, Switzerland, and one of the top forecasters for the real this quarter, has similar views.
"We may see a rally after the impeachment is formally accepted; however, it will be short-lived," he said.
The real will weaken 4.5 percent by the end of December to 3.4 per dollar, according to the median forecast of strategists surveyed by Bloomberg.
Sean Newman, a senior money manager at Invesco Advisers Inc. in Atlanta whose firm oversees $800 billion of assets, says the cost should fall to hedge against losses in the country's sovereign dollar debt. Newman, who has 20 years experience in emerging markets, forecasts five-year credit-default swaps will decline 20 basis points and there will be a similar drop in yields on the country's sovereign debt.

The Bear Case
While most investors are still positive on Brazil, not all are so sanguine. They want to see concrete progress before they invest more, and aren't confident Temer will have an easy time pushing painful measures through Congress. Foreign investors have already pulled 1.5 billion reais out of stocks in August, the biggest exodus since May.
"The anti-Dilma sentiment that has sustained Brazil's rally is now giving way to much more uncertain market conditions," said Nicholas Spiro, a partner at London-based Lauressa Advisory Ltd., which advises asset managers. "Investors got ahead of themselves and are likely to be more cautious post-impeachment as Temer's political position comes under scrutiny. Brazilian assets already look and feel overvalued."

Alberto Ramos, the chief Latin America economist at Goldman Sachs Group Inc., outlined the main things investors will be looking for in a research note Aug. 25. "The market would react positively to: no more concessions to ad-hoc pressure groups for additional government spending and other costly fiscal concessions; quick approval in Congress of the constitutional amendment that caps primary spending growth at the inflation rate of the previous year, without major exceptions to specific spending items, and a strong social security reform blueprint that clears Congress by the first half of 2017."
— With assistance by Vinicius Andrade, Francisco Marcelino, Ney Hayashi Cruz, and Cristiane Lucchesi
Before it's here, it's on the Bloomberg Terminal.
LEARN MORE