business
Sanchez Says Rajoy Doesn't Deserve Spanish Lawmaker Support
By and
Acting prime minister set to lose confidence vote in chamber

Spain has two months to choose leader or new ballot triggered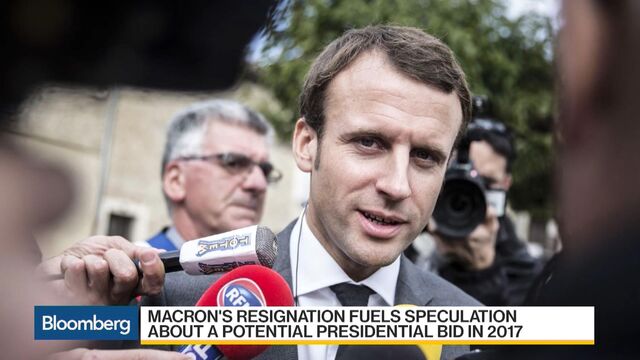 Socialist leader Pedro Sanchez told caretaker Prime Minister Mariano Rajoy he doesn't merit the backing of the Spanish Parliament on Wednesday, portraying the candidate as a liar who turned a blind eye to corruption and ran the country in his own narrow interests.
In response, Rajoy joked that if he was as bad as Sanchez made out, it's difficult to explain how he got almost 8 million votes in winning June's election. As successive opponents attacked his record in government before a confidence vote tonight, Rajoy sat jotting down notes and sucking on a sweet.
"Spain needs a government, yes, that's why we'll vote against the continuation of your misgovernment," Sanchez told lawmakers during a parliamentary debate in Madrid Wednesday, to frequent applause from the ranks of his party. "The lethal combination of corruption and unfair policies can't just be erased because there's been a new election."
The vehemence of Sanchez's attack removes any doubt he'll maintain his veto on Rajoy this week and raises questions about whether there's any room for compromise over the next two months before an unprecedented third election in a year is called. If Sanchez does stick to his guns, he'll be running against an incumbent who's grown stronger over the course of an eight-month stalemate as unemployment fell to the lowest in six years.
"Given parties' entrenched positions, a third round of elections is now the base case," said Antonio Barroso, a London-base political analyst at Teneo Intelligence, who said that scenario has a 55 percent probability. "However, this is a close call, given that the Socialists' precarious internal situation could still force a change" of stance.

Rajoy is trying to piece together the first administration since Spain's traditional two-party system broke down with the emergence of Ciudadanos and the anti-establishment party Podemos at last December's election. While the PP was the only group to increase its vote at a re-run in June and has considerable common ground with the Socialists on policy, Rajoy is struggling to clinch enough support because of unresolved corruption allegations against his party.
"We talk endlessly about western political systems being broken," David Lea, a political analyst at Control Risks Group in London, said in an interview with Guy Johnson on Bloomberg Television. Spain's "is as broken as anybody's. It's a two-party system with four parties and it just doesn't work anymore."
Catalan Question
Rajoy on Tuesday said eight months of political stalemate have put the country's economic recovery and even its territorial integrity in jeopardy, playing up the threat of Catalan separatism to pressure the Socialists who'd likely need Catalan support to form an alternative majority.
"Spain has known many crossroads in its history. This is one of the most serious that we've lived through in the last 40 years," Rajoy said as he set out his case at the start of a two-day investiture debate. Spain needs a strong government "to respond effectively not just to its economic, employment and social challenges, but also any threat to its security or to national unity."
Sanchez told Rajoy he is an "irresponsible" man who has compromised the independence of the Spanish institutions and supported a party official that he knew was corrupt, while letting the country's deficit run out of control, raising taxes, and cutting spending on public services and welfare.
Pablo Iglesias, leader of the anti-establishment group Podemos, accused Rajoy of placing the interests of investors ahead of those of regular Spaniards when he cut spending to fend off a bailout. On the government benches, acting Economy Minister Luis de Guindos shook his head in disbelief while budget chief Cristobal Montoro sitting nearby furrowed his brow in apparent confusion. 
"My proposal is the only reasonable one under the current circumstances," Rajoy said.
Rajoy needs an absolute majority to get through when the debate concludes on Wednesday while a simple majority will suffice at a second ballot on Friday.
If the parties fail to reach a settlement by the end of October, the timings set out in Spanish election law mean the next election could fall on Dec. 25. A Christmas ballot would probably help the acting prime minister because PP voters have historically been more likely to turn out than supporters of other parties.
(
Updates with analyst comment in fifth paragraph.
)
Before it's here, it's on the Bloomberg Terminal.
LEARN MORE