quicktake
QuickTake Q&A: What's in Store for Post-Impeachment Brazil
Raymond Colitt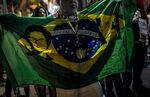 Brazil has been steeped in a set of overlapping crises: its biggest corruption scandal, its deepest recession in more than a century and its worst political crisis in decades. Many executives and politicians have been charged with graft and locked up, the economy shows signs of having bottomed out, and now the suspended president, Dilma Rousseff, has been removed and a new leader confirmed in office through 2018. It would be tempting to conclude that the worst is over for Brazil. Yet much depends on the ability of the new president, Michel Temer, to win approval for his economic reform agenda from Congress. And no one thinks investigators have unearthed the full scope of high-level corruption in Brazil.
1. What brought Rousseff down?
Brazil's Senate on Aug. 31 found Rousseff, 68, president since 2011, guilty of breaking the country's budget laws by doctoring accounts to minimize the size of the deficit. The body permanently removed her from the presidency. Temer, 75, who was the vice president and had temporarily filled in after Rousseff's suspension in May, assumes the presidency until the next general elections in October 2018.
2. What are Temer's priorities? 
Temer plans a series of international trips to attract investors and communicate that he is Brazil's legitimate leader. His itinerary includes China, the U.S. and India. At home his immediate priority will be to get congressional approval on spending caps designed to shrink a budget deficit running at around 10 percent of gross domestic product. He has pledged to introduce a more business-friendly environment, for instance by deregulating the labor market and streamlining authorization for environmental permits.
3. What's the likelihood of an economic recovery?
Consumer and corporate confidence have improved since Temer took office, as have retail sales and industrial output. Economists expect economic growth to return in the fourth quarter of this year. Temer can implement some of his micro-economic reforms by presidential decree but will require congressional approval for his main budget measures. The strength of the recovery is widely thought to depend largely on Temer's ability to win it.
4. Can Temer get the congressional support that eluded Rousseff?
A seasoned politician and congressional leader, Temer has an ample majority in Congress and good relations with legislators. But there has been growing opposition in Temer's own coalition to austerity measures, including caps on civil servants' salaries and pensions. Such policies may be especially hard to pass as legislators start focusing on their parties' prospects in municipal elections in October.
5. Will there be new investment opportunities in Brazil?
Temer's government plans to sell stakes in several state-run companies, notably in the electricity, finance and power sectors. It also intends to offer concessions to build or operate roads, railways and airports. Announcements for these bidding rounds are expected in coming weeks.
6. How big a problem is corruption still?
Big. An investigation into corruption at the state-run oil colossus Petrobras, dubbed Carwash, has not only ensnared scores of defendants, including members of Temer's party. It has exposed a system of institutionalized corruption connecting Brazil's business and political elite.
The Reference Shelf
Before it's here, it's on the Bloomberg Terminal.
LEARN MORE