business
Philippines' Duterte Says Obama Must Listen Before Talking
By and
Duterte says he'll use meeting next week to defend drug war

White House spokesman says Obama won't 'pull any punches'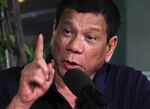 Philippine President Rodrigo Duterte said he's ready to meet Barack Obama at a regional summit next week and signaled he'll give the U.S. leader a strident defense of his war against illegal drugs.
"They must understand the problem first before we talk about human rights," Duterte said Wednesday in a televised briefing. "I will insist, 'listen to me, this is what the problem is. Then we can talk about it'."
Duterte has been defiant toward international criticism of his anti-drug campaign, which has left nearly 2,000 dead in the two months since he took office. He's lashed out at statements from the United Nations and the U.S., responding to comments from U.S. Ambassador Philip Goldberg by calling him a homosexual. That prompted Washington to summon officials from the Philippine Embassy to complain.
U.S. Deputy National Security Adviser Ben Rhodes had said Monday at a briefing in Washington that Obama would use meetings with Duterte at the Association of Southeast Asian Nations summit in Laos to "raise concerns about some of the recent statements from the president of the Philippines" as well as rights issues.
'Well-Documented Concerns'
Asked about Duterte's listen-first admonition, White House press secretary Josh Earnest told reporters on board Air Force One Wednesday that Obama is "going to speak quite directly" when the two meet.
"The president is not going to pull any punches" when it comes to raising "well-documented concerns" the U.S. has on issues including human rights, Earnest said.
Duterte has defended his campaign as a matter of national security, calling illegal drugs a pandemic that must be wiped out by the Philippines at any cost.
The Asean summit will be Duterte's first international gathering since he was elected, and a chance for him to also potentially meet with leaders from China. That's after an arbitration court in the Hague in July ruled in favor of a Philippine challenge to China's claims to a large part of the South China Sea.
Still, Duterte has suggested he is open to bilateral talks with China on the territorial dispute and keen on Chinese investment, indicating he may be less antagonistic toward China than his predecessor Benigno Aquino, who was a vocal ally of the U.S.
— With assistance by Justin Sink
(
Updates with White House comment in fifth paragrpah.
)
Before it's here, it's on the Bloomberg Terminal.
LEARN MORE