Paris Rolls Out Tricolor Carpet for U.K. Companies After Brexit
by and
Republican politician aims to capitalize on Brexit vote

Early rejection spurred feminist goals through career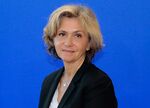 Valerie Pecresse is aiming to take British jobs to France, by fair means or foul.
The head of the Paris region had a charm offensive ready for U.K. companies the day after the Brexit referendum, regardless of the result. With the surprise decision to leave the European Union raising doubts about whether British companies will be able to retain access to European markets, Pecresse, 49, is going into overdrive.
"If I need to go and grab jobs with my teeth, then I'll do it," she said in an interview on the sidelines of a conference in Aix-en-Provence, southern France, last month.
Britain's decision to leave the European Union handed Pecresse an opportunity to help the almost 700,000 unemployed among the Paris region's 12 million inhabitants. It's also a chance to demonstrate her political chops after leading her party to a bruising victory in France's biggest economic region for the first time in 17 years in December.
The regional authority forked out hundreds of thousands of euros on an advertising campaign unleashed on June 24, the day after the vote, promoting her region as an alternative to London.
"Move on, join Paris and its opportunities," the ad went. If the referendum had gone the other way, Pecresse had a completely different message ready.
Tricolore Carpet
To back up that campaign, she's set up a hotline for U.K. companies seeking information about potentially moving to Paris and her team, which is also reaching out to potential targets, has been in touch with about 4,000 London-based businesses.
"Some are big multinationals and some others are small," she said, declining to reveal names. "We're rolling out the blue-white-red carpet."
Trained at the elite business school HEC and then the ENA -- the traditional training ground for top civil servants -- Pecresse initially aimed to work in the film industry. In 1996 she reached the shortlist for a job at the government agency that manages state aid for movies. She'd been told she met all the requirements for the job but in the final interview she told them she was three months pregnant. She says she never heard back.
"This is how it started for me. This is why I entered politics," Pecresse, now a mother of three, said. "I wanted to change things for women."
Lost Job
Instead of handing out subsidies for filmmakers she went to work in the courts, becoming a national lawmaker and then minister for education and later budget under Nicolas Sarkozy until his 2012 defeat.
She returned to the frontline of French politics by edging out Socialist stalwart Claude Bartolone in the regional election in Paris by less than 2 percentage points. During the campaign, Bartolone accused Pecresse of "defending the white race" and was forced to make a semi-apology on television after the comments were construed as labeling her a racist. Bartolone was so distressed by his loss that he went on sick leave for 10 days.
Since then, she's already fought and won a battle with the capital's Socialist Mayor Anne Hidalgo to increase public transport fares. Now the two are battling over Hidalgo's plan to close some major streets in the city center to traffic.
Feminist Agenda
As the universities minister, Pecresse passed a law lifting barriers to promotions of pregnant researchers. Both her deputy and chief of staff are women, as is nearly half of the region authority's staff, her spokesman said.
"I base my choices upon merit but as soon as I can promote a woman, I do it," she said.
With her Republican party embroiled in a nomination race ahead of next year's election, and her former boss Sarkozy declaring his candidacy this month, political observers are watching to see who Pecresse will endorse. The contest is shaping up to be as much about identity politics as economic policy, with the two main contenders trading barbs in recent days over what Muslim women should be allowed to where on the beach. Pecresse will announce who she's backing in September, her spokesman Jean-Marc Zakhia said in an e-mail.
She follows the fortunes of female politicians across the political spectrum and says that women are still at a disadvantage. President Francois Hollande might have thought twice about his decision to fire Culture Minister Fleur Pellerin last year if Pellerin had had the political networks and territorial power base of some of her male rivals, Pecresse says.
To be a woman in French politics "you need to have roots, not just ability," she says.
Sign up to receive the Brexit Bulletin, a daily briefing on the biggest news related to Britain's departure from the EU.
(
Corrects value of advertising campaign in fifth paragraph.
)
Before it's here, it's on the Bloomberg Terminal.
LEARN MORE