Canada's Economy Shows Signs of Life Beneath Oil-Fire Damage
by
Output grows 0.6% in June to cap grim second-quarter result

Data suggests GDP 'to get a nice lift in the third quarter'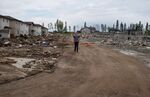 Canada's economy grew at the fastest pace in three years in June, regaining momentum after Alberta wildfires led to the biggest quarterly contraction since 2009.
While crimped oil production cut second-quarter output by a 1.6 percent annualized pace, Statistics Canada said Wednesday from Ottawa, gross domestic product grew 0.6 percent in June, exceeding consensus expectations for a 0.4 percent expansion. Economists often put more weight on the last month of a quarter as a sign of future growth.
"We know that second quarter growth would have been marginally positive without the impact of the fire in Alberta, and we are going to get a nice lift in the third quarter," Avery Shenfeld, chief economist at Canadian Imperial Bank of Commerce, said in a telephone interview. "June was the first taste of that."
Canada needs a quick recovery from the natural disaster in May, which knocked as much as 1.4 million barrels of production offline, to prove broader weakness isn't taking hold. Shipments of other goods to the U.S. have faltered over the last year, business investment has dropped and consumer spending could be limited by record debt loads amassed through a housing boom.
Canadian bond yields climbed after the report, with debt due in 10 years rising to 1.03 percent from 1.02 percent. The country's dollar weakened 0.1 percent to C$1.3117 per U.S. dollar at 9:11 a.m. Toronto time.

Gains for June were led by the mining and oil and gas industry that resumed production after the fires. Eight of 11 major categories grew on the month, two declined and one was little changed. Manufacturing climbed by 1.8 percent.
Bank of Canada Governor Stephen Poloz has pinned his view that he can avoid cutting interest rates back to record lows on the idea exports outside the energy industry are already leading a recovery from a plunge in crude oil. Poloz's forecast in July was for a 1 percent annualized decline in the second quarter rebounding to a 3.5 percent gain in the third.
Rate Decision
The GDP report is one of the final indicators before the central bank's Sept. 7 interest-rate decision. Economists predict no change in the key rate, which has been at 0.5 percent since July 2015, while swaps trading shows some investors are betting on a cut later this year.
The quarterly figures signaled some of the main forces in the economy this year are still at work: weak business investment and strong consumer spending. Business gross fixed capital formation fell 0.5 percent, the sixth straight decline, while consumer spending rose 2.2 percent.
Exports of goods and services plunged at a 16.7 percent annualized pace. Statistics Canada said that excluding the damage from the wildfires output edged up. Nevertheless, export declines ranged beyond the oil industry: automobiles and metals both fell while shipments of consumer goods posted the largest drop since 2003.
Government spending also bolstered the economy with a 4.2 percent increase, with some of it linked to Alberta relief efforts.
Before it's here, it's on the Bloomberg Terminal.
LEARN MORE