Nigerian Slump Deepens as Economy Shrinks 2.1% in Second Quarter
by and
Economy contracted as oil output declined from previous period

IMF forecast Nigeria economy will shrink 1.8% in 2016
Nigeria's economic slump deepened in the second quarter as a declining oil industry weighed on output.
Gross domestic product in Africa's most populous country contracted by 2.1 percent in the three months through June from a year earlier, the Abuja-based National Bureau of Statistics said in an e-mailed statement on Wednesday, after shrinking 0.4 percent in the first quarter. The median of 17 economist estimates compiled by Bloomberg was for a 1.6 percent contraction.
Nigeria suffered a revenue squeeze after oil prices slumped by half since mid-2014, and crude exports fell by over 20 percent in the second quarter as militants in the Niger River delta blew up pipelines and reduced output. This was exacerbated by the Central Bank of Nigeria's currency peg that led to a lack of dollars in the economy, curbing imports and causing shortages from fuel to industrial materials.
Crude production fell to 1.69 million barrels per day in the second quarter, from 2.11 million barrels in the three months through March, the statistics office said. The oil industry contracted by 17.5 percent in the period. The non-oil sector, which includes manufacturing, banking and agriculture, shrank 0.4 percent.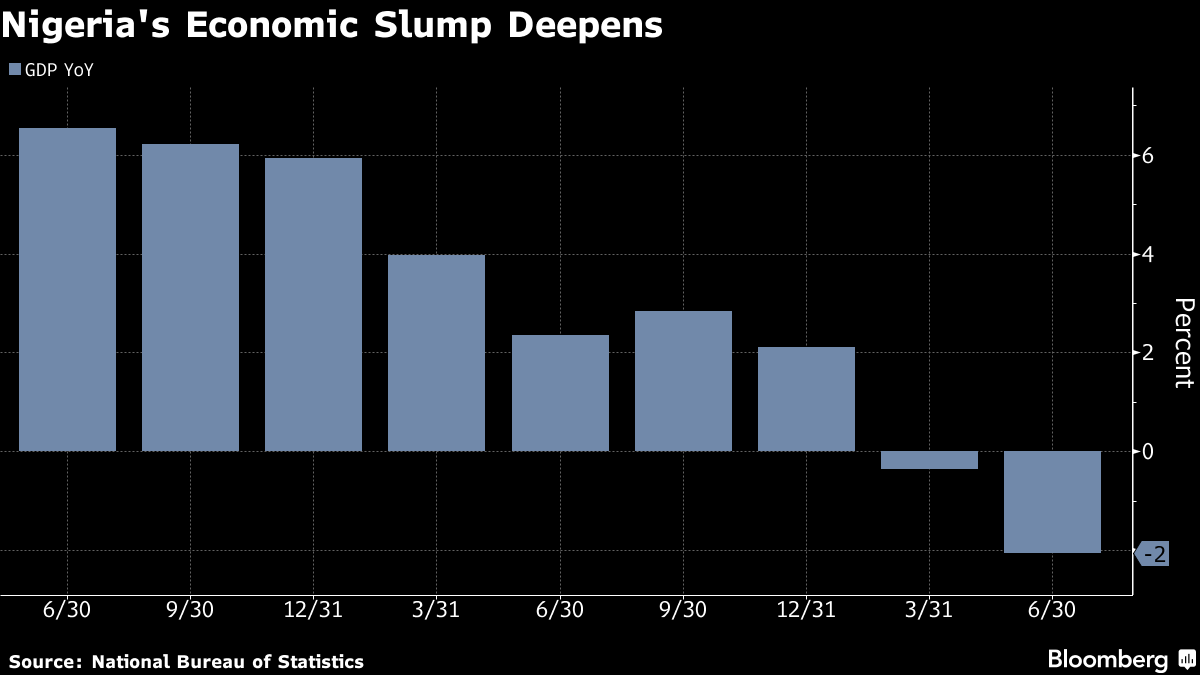 "The key point from today's data is that there was a very poor performance across almost the entire economy," John Ashbourne, an economist at London-based Capital Economics Ltd., said in an e-mailed response to questions. "Every engine has blown out."
The economy as a whole expanded 0.8 percent compared with the previous quarter, according to the statistics agency. That means Nigeria avoided a technical recession, Cobus de Hart, an analyst at NKC African Economics in Paarl outside Cape Town, said in an e-mailed note.
While the government planned to stimulate the economy with a record 6.1 trillion naira ($19.3 billion) budget this year, it delayed approving the spending plans as President Muhammadu Buhari haggled with lawmakers over allocations. The government collected 1.16 trillion naira in revenue, or about half of what it expected, in the second quarter compared with 1.27 trillion naira in the previous three months, the central bank said in a report Aug. 26.
"There is a limit to what the federal government, with its limited tax collections and expenditures, can really do at an economy-wide level," Alan Cameron, an economist at Exotix Partners LLP, said in an e-mailed response to questions. "One obvious area of improvement would be the power sector."
The slump in oil, the nation's biggest revenue earner, as well as shortages of foreign currency and power could cause the economy to shrink 1.8 percent this year, according to the International Monetary Fund. That would be Nigeria's first full-year contraction since 1991, according to data from the nation's statistics agency. The economy will fare better in 2016 than the IMF forecast, Adeyemi Dipeolu, a special adviser on economic matters to Buhari, said in an e-mailed statement on Wednesday.
"We are likely to see better growth numbers coming through in the third and fourth quarters, but it's unlikely to make up for the really poor performance of the first half of the year," Ridle Markus, an Africa strategist at Barclays Plc's unit in Johannesburg, said by phone. There's "a good probability that the economy will record a full-year recession," he said.
The central bank removed its 197-199 naira to dollar peg on June 20 after more than a year, causing the currency to lose more than a third of its value. The Monetary Policy Committee increased the benchmark rate by 200 basis points to 14 percent last month to help prop up the naira and fight inflation, even as the economic outlook deteriorated.
Price growth accelerated to 17.1 percent in July, the statistics office said in a separate report, the highest rate since October 2005. The MPC will announce its next policy move on Sept. 20. The naira strengthened 7.4 percent to 315.75 per dollar by 2:07 p.m. in Lagos on Wednesday.
"There is little evidence of the ability of businesses to pass on price increases, despite the pressure on prices largely driven by Nigeria's foreign-exchange shortage," Razia Khan, head of Africa macro research at Standard Chartered Plc in London, said in an e-mailed note to clients. "We expect a further 200 basis points of tightening at the next MPC meeting."
Before it's here, it's on the Bloomberg Terminal.
LEARN MORE