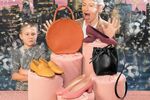 Rachel Mansur and Floriana Gavriel met at a Los Angeles concert by indie pop band the xx in 2010, became fast friends, and launched an accessories collection together in 2013. About half a second later, every woman in the world wanted a Mansur Gavriel bag. "In the handbag business, there have been companies that had success early on," says boutique magnate Steven Alan, who was one of the first to stock the modestly priced (under $500) bucket bags and totes. "But nothing that I know of in 22 or 23 years that's been like that. People would put their name on waiting lists. They would sell out before they got to the store."
A little more than three years later, Mansur Gavriel has managed to keep its bags—and now clutches, backpacks, wallets, and shoes—in a supply-and-demand sweet spot by using time-tested retail strategies and clever social media positioning. "Certain articles of clothing, once they become coveted by everyone, everyone gets over it," says street-style photographer Tommy Ton, who shot the brand's spring/summer 2016 presentation. Not Mansur Gavriel's. "I have friends who've had people approach them asking, 'Do you want to sell it?' " he says. "I was like, Wow, this is a crazy phenomenon—to have people want to buy other people's handbags off their backs."
The founders themselves rarely give interviews, so here's how you make and market the perfect post-recession accessories, according to marketers, stylists, and people who can't keep the products stocked:
 
No. 1: Keep It Simple
When Mansur Gavriel first hit stores, the accessories market was experiencing "it" bag hangover, with "it"-ness seemingly defined by how many zippers one had. "You look at brands like Céline"—whose refined $3,400 Luggage bag defined post-recession fashion—"and you see people dressing in a more simple way," says stylist Erin Walsh, whose clients include Kerry Washington and Maggie Gyllenhaal. "People feel a safety in things that are timeless."
Mansur Gavriel offered that same sense of safety at about a seventh of the price. Although its first line of bags was assembled in China, according to a 2013 interview the pair did with the website Fashionista, they're now made in Italy, where the leather has always been sourced. The original bags have undergone one price hike, but they have yet to cross the $600 mark, making them inexpensive enough for many women to have one and for others to build a collection. "It's the perfect combination of fashion and function," says Jen Mankins, owner of Brooklyn boutique Bird. "It's aspirational and accessible."
 
No. 2: Just Say No
Alan met Mansur, 32, and Gavriel, 33, at a mutual friend's art opening in 2012. They asked him to come to their studio and offer feedback on the handbag company they were preparing to start. After the meeting, Alan placed his first order. "In addition to being great designers," he says, "they're also good businesswomen. They're careful not to overdistribute."
Mansur Gavriel restricts its retail partners to a few high-end boutiques and department stores and limits the number of bags a retailer can order. (Its online partners are even more exclusive.) This isn't something Brian Bolke has seen before. "Because the price point is low, we buy a much bigger quantity of these bags" than, say, Céline's, says Bolke, owner of Dallas's Forty Five Ten, which caters to Laura Bush and other society ladies. "But you could probably sell five times as many." Given Mansur Gavriel's unique schedule of six annual deliveries vs. the typical eight, Forty Five Ten can go three months without a bag in the store.
 
No. 3: Hide in Plain Sight
Mansur Gavriel's Instagram account features photos with relatively unknown models, bright colors, and natural backgrounds; sometimes there's a fruit or flower arrangement. But you don't get a peek into the designers' lives. If Mansur Gavriel had followed conventional wisdom, once the brand gained traction its social media should have become more personal. "They say it's about authenticity—bringing out the designer, bringing out their daily lives," says Shira Sue Carmi, founder of the fashion branding agency Launch Collective. Instead, Mansur Gavriel doubled down on its arm's-length approach.
The brand gives off the vibe that there's always more to discover. Take the original bags' neutral exteriors and colorful interiors. "It creates the opportunity for personal expression," Mankins says. Or the gold stamped logo—demure and elegant. "It has a quiet message of authority," says Diana Kim, owner of Stand Up Comedy, a boutique in Portland, Ore.
This spring, Mansur Gavriel released its first nonhandbag items, shoes in four styles, five heel heights, and 16 colors. Clothing will likely follow. "It's been an overnight success. And then, in many ways, they're still holding back," Carmi says. "There's a lot more that we haven't seen yet."
Before it's here, it's on the Bloomberg Terminal.
LEARN MORE