Hanjin Shipping Files for Court Protection After Revamp Rejected
By and
Rival Hyundai Merchant's stock jumps 26% on Hanjin move

Regulator says Hyundai Merchant may buy Hanjin's assets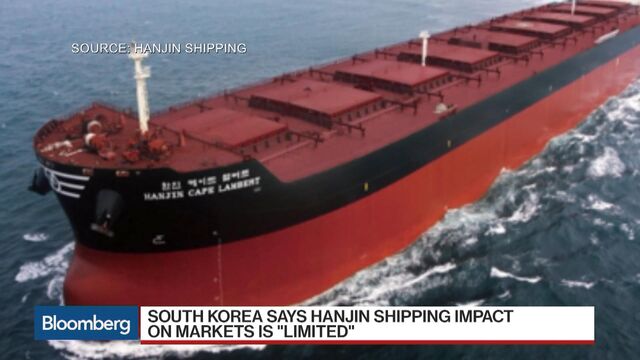 After failed efforts to secure credit and tide over a cash shortage, Hanjin Shipping Co. applied for court protection on Wednesday. The fall of South Korea's biggest container shipping line has spurred a rally in the shares of rival Hyundai Merchant Marine Co.
Hanjin Shipping approached the court for protection of its assets after creditors on Tuesday rejected its restructuring proposal, dealing a blow to the firm that's been trying to reschedule debt under a voluntary creditor-led program since May. The company is the latest victim of the slump in global trade following the 2008 financial crisis, coupled with depressed freight rates caused by overcapacity.
South Korea's Financial Services Commission said that Hyundai Merchant may consider taking over some of Hanjin Shipping's assets, including vessels, network and staff. Shares of Hyundai Merchant surged 26 percent to 9,330 won, the biggest gain in more than two months.
A court in Seoul will soon decide whether to revive the company after site inspections Thursday, a spokesman said in a text message. It expects to halt all sale of Hanjin Shipping's assets by the company and its creditors after discussions with executives later on Wednesday, the court said.
"It means one less competitor but it really won't change the fundamental problem the industry is facing," said Park Moo Hyun, an analyst at Hana Financial Investment Co. in Seoul. "There will still be the same number of ships. What we really need is a way to cut down on capacity."

The restructuring proposals submitted by Hanjin Shipping weren't enough to address a cash shortage, main lender Korea Development Bank said Tuesday.
Hanjin Shipping shares, headed for a fourth year of losses, have tumbled 66 percent this year, with the market value sliding to 304 billion won ($272 million). Its 5.9 percent June 2017 local-currency notes fell to a record-low 27.3 percent of face value on Aug. 30, Korea Exchange prices show.
Hyundai Merchant, the nation's second-biggest container line, is itself in the midst of a creditor-led debt restructuring program. Unlike Hanjin Shipping, it managed to obtain financial help after meeting all requirements for funds. The state-run Korea Development Bank is now the biggest shareholder of Hyundai Merchant after swapping debt for equity. KDB owns about 14 percent of the company, according to data compiled by Bloomberg.  
Task Force
Hyundai Merchant, which has a market value of $1.5 billion, said it will work with authorities to come up with measures without elaborating.
The decision will have limited impact on the country's financial industry, the financial regulator said. There could be some impact on ports and the shipping industry and the government has set up a task force to ensure there are no delays to cargo flow, the agency said. South Korea's Busan is the world's sixth-busiest container port.
Hanjin Shipping is part of Hanjin Group, which also owns Korean Air Lines Co., the world's third-largest cargo airline. Korean Air loaned funds to Hanjin Shipping and bought shares in the container line in 2014 to become the biggest shareholder with 33 percent. The group, which also counts airport services, logistics and mineral water among its businesses, is headed by Chairman Cho Yang Ho.
* If the application is accepted, Hanjin Shipping assets to be frozen while the court deliberates next steps
* If accepted, court will name a new management to come up with a revival plan
* Hanjin Shipping was unprofitable in four of the past five years
* Had total debt of 6.1 trillion won ($5.4 billion) at the end of June; cash and equivalents fell to 180.4 billion won from 241.1 billion won at the end of December, according to its first-half report
* Reported a loss of 474.1 billion won in the first half of this year, versus 103.3 billion won profit a year earlier; January-June sales dropped 26 percent to 3.02 trillion won
* Market value tumbled to 304 billion won this week following a 66 percent plunge in its share price this year
* Company may still need as much as 1.3 trillion won in cash even after it agreed on charter-rate adjustments with shipowners and extended the maturities of some loans: Korea Development Bank
* Hanjin Shipping is the world's seventh-biggest shipping line by capacity, with market share of 2.9 percent: Alphaliner, a maritime consultant
* Company has 132 container and bulk ships on its fleet, including 59 it owns
* Hanjin Group will put in all effort to help revive South Korea's shipping industry, the shipping line's parent group said in an e-mailed statement Tuesday