business
Ex-Tesco Finance Chief McIlwee Probe Closed by U.K. Regulator
By
Financial Reporting Council ends case against Laurie McIlwee

Accounting practices at Tesco still under investigation by SFO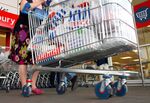 The U.K. accounting regulator closed an investigation into Tesco Plc's former Chief Financial Officer, Laurie McIlwee, saying there wasn't a "realistic prospect" that misconduct would be found in the case.
The Financial Reporting Council closed its case into McIlwee Wednesday, according to a statement from the regulator. It is still investigating the grocer's auditor, PricewaterhouseCoopers LLP, and other individuals involved in Tesco's accounts.
The FRC was one of a number of regulators to open an investigation into Tesco's accounting practices in 2014 after the company said it had overstated profits by 263 million pounds ($345 million). At least nine senior managers were suspended, most of whom have since left. The U.K. Serious Fraud Office opened a criminal investigation in October that year, which is still live.
"The executive counsel to the FRC has concluded that there is no realistic prospect that a tribunal would make an adverse finding in relation to the conduct," the agency said in its statement. "The FRC's investigation into a member firm and other members is ongoing."
McIlwee resigned as Tesco's CFO in April 2014, prior to the discovery of the accounting errors, amid reports of disagreements with then-Chief Executive Officer Philip Clarke. Clarke himself stepped down a few months later and was replaced by former Unilever executive Dave Lewis.
The announcement comes hours after the FRC disclosed a resolution of another investigation into PwC. The firm was fined 2.3 million pounds in relation to its 2007 audits of British consumer finance company Cattles Ltd. and its Welcome Financial Services unit. The penalty, which was 3.5 million pounds before a settlement discount, is the largest-ever settlement issued by the agency. Simon Bradburn, the PwC audit partner, was also fined 75,600 pounds.
"While the FRC has acknowledged that we had been deliberately misled by third parties, we recognize that certain aspects of this 2007 audit fell short of expected standards," the accounting firm said in an e-mailed statement about the Cattles' fine. "Audit quality is of paramount importance to PwC and the FRC's annual audit quality assessments have shown a trend of improvement in our work over several years."
PwC declined to comment about the Tesco probe.
— With assistance by Paul Jarvis
Before it's here, it's on the Bloomberg Terminal.
LEARN MORE