Euro-Area Inflation Undershoots Forecast Before ECB Meeting
By
Consumer prices rise 0.2% on year versus estimated 0.3% gain

Economic confidence dropped more than anticipated in August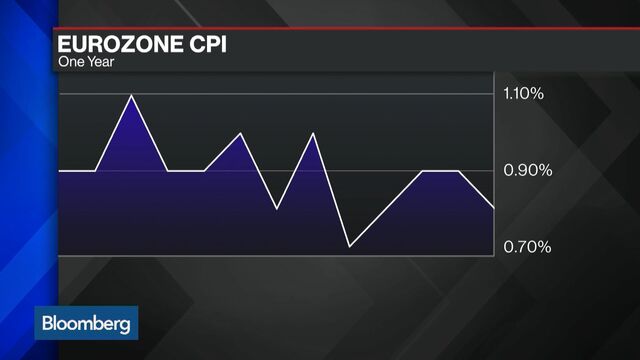 Euro-area inflation failed to accelerate in August, adding to signs that the euro area's economic outlook deteriorated ahead of a European Central Bank meeting next week.
Consumer prices rose 0.2 percent in August from a year earlier, the European Union's statistics office in Luxembourg said on Wednesday. The medium estimate in a Bloomberg survey was for an increase of 0.3 percent.
Two months after the U.K.'s Brexit vote, the 19-nation economy is beginning to show signs of faltering, suggesting that more stimulus may be warranted. Business and consumer sentiment declined, and executives are warning that orders may suffer from political uncertainty. The International Monetary Fund has already cut its forecast for euro-area growth next year, and the European Central Bank will release new projections after its meeting next week.
"Today's data are a small negative surprise and highlight once more the ECB's difficulties in reaching its goal," said Holger Sandte, chief European analyst at Nordea Markets in Copenhagen. "It suggests that the ECB isn't yet done."
The euro was little changed after the report and traded at $1.1148 at 11:10 a.m. Frankfurt time.
Stimulus Measures
Policy makers have already deployed a raft of unconventional stimulus that includes large-scale asset purchases, negative interest rates and long-term loans that see banks getting paid for extending credit to companies and households. Still, inflation remains far below the ECB's goal of just under 2 percent, a level it hasn't reached since early 2013.
The Frankfurt-based institution currently predicts price growth will accelerate to 1.6 percent in 2018.
Core inflation slowed to 0.8 percent in August from 0.9 percent a month earlier, Eurostat said. German inflation unexpectedly decelerated to 0.3 percent, while consumer prices extended their decline in Spain.
Euro-area unemployment remained unchanged at 10.1 percent, according to a separate release.
Further Easing
The inflation report comes one day after a European Commission survey showed economic confidence declined across most countries and most sectors in a delayed reaction to Britain's decision to leave the European Union. The data may reopen the debate about more stimulus at the ECB's Sept. 8 meeting, after the economy's relative resilience over the summer months led economists including those at JPMorgan Chase & Co and Danske Bank A/S to push back projections for further easing.
Options discussed in the past include another cut to the deposit rate, an extension of QE beyond its current end date of March 2017 and another round of long-term loans. The ECB may also consider adjusting the parameters of its current asset-purchase program to address scarcity concerns.
ECB President Mario Draghi "is failing to get inflation up to 2 percent," Michael Spies, a strategist at Citigroup in Frankfurt said in an interview on Bloomberg TV. "He thinks about what he still can do in terms of quantitative easing and I think that's the way he's going to operate -- there will probably be more QE and longer QE."