Drahi's SFR Risks More User Losses as French Price War Flares Up
by
Billionaire's carrier losing users to Iliad, Bouygues, Orange

Rivals offer discounts as SFR focuses on higher-end services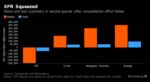 Patrick Drahi's decision to sit out a renewed French telecoms price war is proving costly.
The billionaire's SFR Group SA lost 245,000 wireless subscribers last quarter as it refrained from responding to aggressive discounts by Iliad SA and Bouygues Telecom, which both reported user gains Wednesday. The defections could continue as customer dissatisfaction is set to worsen because of recently announced price increases for existing subscribers, according to Citigroup Inc.
The collapse of an attempted combination of Orange SA and Bouygues Telecom this year left the competitive French market with four major wireless carriers, each one struggling to boost revenue amid price pressures. While Iliad and Bouygues pushed forward with discounts, Paris-based SFR focused more on improving network quality and adding broader content packages, losing customers to its three biggest foes, who all added subscribers.
"SFR is poorly positioned, as it has a relatively expensive product, but a relatively bad network and customer experience," New Street analysts led by Russell Waller said in a note Tuesday. "Over time, we think that SFR's investment will pay off, but it does mean that it could remain vulnerable to promotional activity from the others."
Waller recommends buying SFR, citing a stock valuation below that of peers. Shares of SFR have declined 29 percent this year, while Iliad has fallen 15 percent, Bouygues 21 percent and Orange 10 percent.

Iliad's Free brand, which shook up the market in 2012 with wireless packages starting at 2 euros ($2.23) a month, this June began giving new customers free calls, text messages and up to 50 gigabytes of data for free for the first six months. Bouygues's low-cost brand B&You offered unlimited calls and text messages and 20 gigabytes of data for 3.99 euros a month for a year -- down from 24.99 euros a month previously.
In contrast, SFR is offering a package for 5.99 euros a month that includes 2 hours of calls, 100 megabytes of data and unlimited text messages.
Boosted by the discounts, Free won 185,000 new mobile customers in the second quarter while Bouygues Telecom added 303,000. Orange, the market leader that's also trying to focus on premium customers, added 354,000 subscribers. SFR's losses accelerated from 79,000 in the first quarter.
To be sure, some investors are commending SFR for focusing on service quality at the expense of near-term customer gains, which could help its profitability longer term.
"The strategy of SFR is to enrich its offer to target premium customers that generates higher margins," Anca Condurache, fund manager at Quilvest AM, said in a phone interview. "This should be a profitable choice in the long run."
Before it's here, it's on the Bloomberg Terminal.
LEARN MORE