Cryan Shoots Down Merger Report as Deutsche Bank Shrinks
By
Manager Magazin reports considerations for Commerzbank merger

Cryan says he's looking to make the bank "a bit smaller"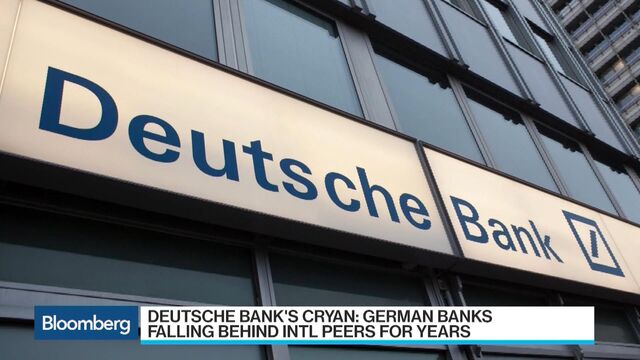 Deutsche Bank AG Chief Executive Officer John Cryan, responding to a report that the lender considered a merger with Commerzbank AG, said he's not looking for a tie-up and is instead trying to shrink the company.
"No," Cryan, 55, said at a conference in Frankfurt on Wednesday, when asked whether the German lender is looking for a partner. "Part of the work we're doing is to make our bank a bit smaller, to make it a bit simpler."

Deutsche Bank, which runs Europe's largest investment bank, has lost about 42 percent in market value this year as Cryan struggles to shore up capital and reverse losses. As part of his restructuring plan introduced last year, the CEO announced thousands of jobs cuts, sold risky assets and suspended dividend payments.
"I don't think Deutsche Bank and Commerzbank will merge -- that's too big a deal," Chris Wheeler, a London-based analyst at Atlantic Equities said in an interview with Francine Lacqua and Tom Keene on Bloomberg Television. "I don't think regulators would be comfortable for a whole host of reasons."
Postbank Plans
The shares rose 3.5 percent to 13.34 euros at 2:17 p.m. in Frankfurt, giving Deutsche Bank a market value of about 18 billion euros ($20 billion). Commerzbank advanced 3.9 percent to 6.34 euros. The Frankfurt-based bank has a market value of about 7.8 billion euros.
Deutsche Bank has put a planned initial public offering of its German Postbank consumer division on hold, with Cryan citing market conditions as one of the reasons. The sale was part of the CEO's plans to raise capital buffers, hurt by fines tied to past misconduct and restructuring costs.
"Deutsche Bank still wants to dispose of Postbank," Wheeler said. "Maybe there could be a deal with Commerzbank which is more skewed toward retail banking."
Germany's largest lender has said that it may not be profitable in 2016. Commerzbank earlier this month forecast a drop in full-year net income after previously saying that it will probably fail to reach its goals for a return on equity, a measure of profitability, and costs as a share of revenue in 2016.
"We've achieved a lot to stabilize the bank over the past few years," Commerzbank CEO Martin Zielke said at the conference hosted by Handelsblatt. "The question is to what extent banks will be able to reshape their models toward profitable growth. That's not an easy task."
Cryan and Zielke both agreed that there needs to be a consolidation among German lenders to help bolster profitability across the industry.
"There are simply too many banks in Germany," said Cryan, who took over as sole CEO earlier this year. "We need more mergers at a national level but also across national borders. Only then can we be profitable in the long run and only then can we compete internationally."