markets
Deere Deal for Monsanto's Precision Planting Opposed by U.S.
By
Justice Department sues to block deal as anticompetitive

Precision sale comes amid consolidation wave in farming sector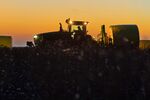 Deere & Co. was sued by U.S. antitrust officials seeking to block its purchase of Monsanto Co.'s Precision Planting LLC equipment business, a deal the government says would eliminate competition and raise costs for farmers.
Deere's acquisition would combine the only two significant U.S. providers of high-speed precision planting systems used by farms, giving the company control of close to 90 percent of the U.S. market, the Justice Department said Wednesday in a complaint filed in federal court in Chicago.
"If this deal were allowed to proceed, Deere would dominate the market for high-speed precision planting systems and be able to raise prices and slow innovation at the expense of American farmers who rely on these systems," said Renata Hesse, the head of the antitrust division.
Deere, the world's largest maker of agricultural machinery, agreed to buy the Monsanto unit in November for $190 million, according to the complaint, as it works to make its machines more technologically advanced and boost farmer productivity. Amid an agricultural downturn, Deere Chief Executive Officer Samuel Allen is on an acquisition spree in the niche market of data-intensive farming equipment, which he has made a priority.
Contest Lawsuit
Both companies said they would contest the lawsuit, arguing the combination will benefit farmers.
The U.S. allegations are "misguided," Deere said in a statement. "Competition in precision agriculture is strong and growing in all of these channels."
Monsanto shares fell as much as 2.4 percent on the news and were down 1.2 percent to $106.20 at 2:03 p.m. in New York. Deere dropped as much as 2.1 percent and was down 1 percent to $84.83.
The deal comes amid looming consolidation in agriculture. About 75 percent of the global crop-chemicals industry could end up in the hands of three companies with pending deals between Dow Chemical Co. and DuPont Co., China National Chemical Corp. and Syngenta AG and a possible tie-up between Monsanto and Bayer AG. Shares of Dow, Dupont and Syngenta also dropped on news of the U.S. lawsuit.

Precision Planting, founded in 1993, was acquired by St. Louis-based Monsanto in 2012 for $210 million. The company's components can be used to augment new seeding equipment or to retrofit older equipment for precision applications. They can be used to apply the right pressure to sow seeds in the best depth and spacing for maximum yields. The company's U.S. sales amounted to about $100 million in 2015, the U.S. said.
Deere and Precision Planting both introduced high-speed planting systems in 2014 after years of research and development, and their head-to-head competition has benefited farmers through lower prices and innovation, the government said. While Deere sold its technology attached to new planters, Precision Planting's equipment allowed farmers to retrofit their existing planters, according to the complaint. That meant farmers could get the technology at a fraction of the cost.
That made the Monsanto unit a serious threat to Deere sales, the Justice Department said. When Precision partnered with a Deere rival, an executive called it "an obvious challenge to the goals of John Deere on every level," according to the complaint.
Under the agreement, Deere would acquire assets including factories, the Precision Planting brand and most of the unit's products. The deal would allow Monsanto to expand sales opportunities for its FieldView app, which provides farmers with real-time planting data, to owners of Deere equipment including tractors.
In February, Deere bought Monosem Inc., a maker of precision planters, for an undisclosed amount. The next month, it agreed to pay $53 million for an 80 percent interest in Hagie Manufacturing Company LLC, a deal that it said would help advance its efforts in precision technology.
The case is U.S. v. Deer & Co., 16-cv-08515, U.S. District Court, Northern District of Illinois (Chicago)
— With assistance by Lydia Mulvany, Andrew M Harris, and Mario Parker
(
Updates with complaint in 11th paragraph.
)
Before it's here, it's on the Bloomberg Terminal.
LEARN MORE