Rousseff's Final Impeachment Vote Just Hours Away in Brazil
By
Senate expected to have enough votes to oust Brazil president

Michel Temer wants to be sworne in ahead of trip to China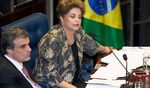 Brazilian senators are scheduled to hold their decisive impeachment vote around midday Wednesday, bringing to an end more than eight months of congressional proceedings that are expected to result in President Dilma Rousseff's permanent ouster.
Chief Justice Ricardo Lewandowski, who is presiding over an impeachment trial in the Senate, said the chamber will start its final session at 11 a.m. local time (10 a.m. EST) on Wednesday and will hold the vote before lunch. He announced the decision on Tuesday during a pause in a session that ended up running well past midnight.
Congress began the impeachment proceedings in December last year on allegations that Rousseff used accounting tricks to mask the size of a budget deficit. The Senate forced her to temporarily step down in May when it voted to open the trial, which started Thursday last week. Since then, the chamber has held five marathon sessions, including one on Monday where Rousseff took questions from legislators for 14 hours. She repeatedly denied wrongdoing, saying the country's elite had manufactured charges in order to seize power.

Rousseff will permanently lose her mandate if at least 54 of the chamber's 81 members vote against her on Wednesday. Newspapers Folha de S.Paulo and O Estado de S.Paulo already count enough pro-impeachment votes. Vice President Michel Temer, who took over on an interim basis in May, would serve out the remainder of her term as Brazil's president until the next election in 2018.
For a brief look at Dilma Rousseff's life and career, click here.
Temer wants to be officially sworn in as president in time to leave for China by 5 p.m. on Wednesday, according to an aide who is helping plan the trip. He is traveling to meet with business executives in Shanghai ahead of the Group of 20 summit in Hangzhou. He plans to meet with cabinet members and congressional leaders to discuss legislative votes just before heading to Asia, according to Senator Eunicio Oliveira, a member of Temer's party.