Cryan Calls for Bank Mergers After Mulling Commerzbank Deal
by and
Cryan, Commerzbank's Zielke said to have weighed a merger

Deutsche Bank also considered asset management sale, WSJ says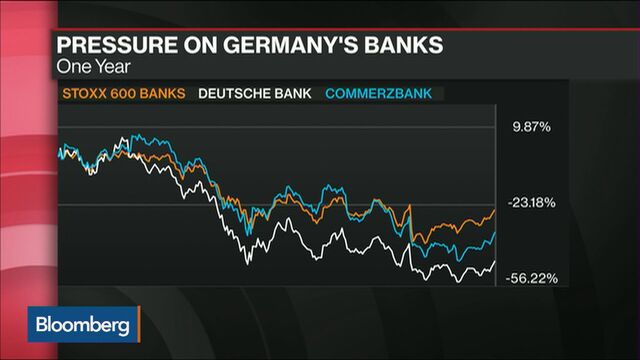 Deutsche Bank AG Chief Executive Officer John Cryan urged more consolidation among European banks struggling to shore up profitability, after his own firm held talks with its biggest German rival earlier in August about a possible deal.
"We need more mergers, at a national level but also across national borders," Cryan said at a conference hosted by Handelsblatt in Frankfurt on Wednesday. A person familiar with the matter said Deutsche Bank and Commerzbank AG held merger discussions but decided against pursuing a transaction to focus on restructuring their own businesses first.

Deutsche Bank and its European peers have seen earnings squeezed by tougher capital rules, mounting legal bills and negative interest rates. While Europe's regulators have forced lenders to scale back and curb risky activities in the wake of the financial crisis, authorities should now start focusing on helping banks grow and become more competitive, the CEO said.
"This situation in Europe cannot go on," Cryan said. "We need a change of course. We need a strategy for our financial sector."
Exploratory Discussions
Cryan said Deutsche Bank isn't looking for a merger partner and is concentrating instead on becoming "a bit smaller," brushing away reports of talks with Commerzbank. Even so, both Cryan and Commerzbank CEO Martin Zielke -- who spoke at the same conference Wednesday -- said an overabundance of lenders in Germany is undermining profitability across the industry.
The CEOs participated in the merger talks earlier this month, said the person with knowledge of the situation, who asked not to be identified because the deliberations were private. Deutsche Bank Chief Financial Officer Marcus Schenck led the group of executives examining the plan, the person said.
Spokesmen for Deutsche Bank and Commerzbank declined to comment.
"On principle, we look at a merger as a positive," said Michael Huenseler, who helps oversee about 17 billion euros ($19 billion) at Assenagon Asset Management in Munich, including Deutsche Bank debt. "The trouble is that both banks have a lot of issues internally. Before entering into a merger, you have to have a stable organization."

Both lenders extended gains in Frankfurt trading, with Deutsche Bank rising 1.4 percent at 9:04 a.m. and Commerzbank advancing 2 percent. Germany's two largest banks have lost more than 30 percent of their market value this year, with Deutsche Bank the third-worst performer on the 38-member Bloomberg Europe Banks and Financial Services Index, which fell 21 percent.
In addition to weighing a Commerzbank deal, Deutsche Bank has also considered selling all or parts of its asset management business, the Wall Street Journal reported, citing unidentified people familiar with the deliberations. Executives are also discussing whether to adjust the bank's financial targets, the newspaper said. 
Senior managers are meeting this weekend to debate Deutsche Bank's options, according to the report. A spokesman at Deutsche Bank in Frankfurt declined to comment.
Fewer Deals
While governments across the region were forced to bailout lenders during the crisis, speeding up consolidation in some countries, the volume of mergers involving western European banks has dropped by more than a third during the last six years from the previous six. Not everyone sees bigger banks as an answer to the industry's woes.
"There's very little benefit in having scale," Christopher Wheeler, an analyst at Atlantic Equities, told Francine Lacqua and Tom Keene in an interview on Bloomberg Television on Wednesday. "All the banks are pulling right back."
Since taking over last year, Cryan has cut risky assets, eliminated thousands of jobs and suspended dividend payments to help revive investor confidence. The CEO signaled last month that Germany's largest lender may have to deepen cost cuts after second-quarter profit was almost wiped out by a slump in trading and restructuring costs.
'Disastrous Consequences'
As part of a five-point plan for the industry presented on Wednesday, Cryan suggested European lenders become less complex and invest in new technologies. Deutsche Bank has targeted wealthy clients in Asia, helping boost revenue from the region by almost 90 percent over the past decade, he said.
European Central Bank council member Francois Villeroy de Galhau, speaking in Frankfurt, also called for more cross-border deals. Daniele Nouy, the ECB's top banking supervisor, said in an interview with Verslo Zinios posted on the central bank's website that "in some parts of the euro area there is room for consolidation and bank mergers."
For his part, Cryan said it's up to central banks to play their role in helping promote a healthier banking system. Negative interest rates not only undermine profit margins for banks but also have "disastrous consequences for savers and their pension investments."
"Monetary policy is already working against the goal of creating a more secure and stable European banking system," Cryan said. "The most important task for banks is to become more efficient and innovative. However, this won't be enough if we continue to face such headwinds in terms of monetary policy."
Before it's here, it's on the Bloomberg Terminal.
LEARN MORE