Clinton, in Slap at Trump, Says U.S. Global Leadership Vital
By
Democrat contrasts her views with Republican opponent

Clinton also endorsed by former Republican defense official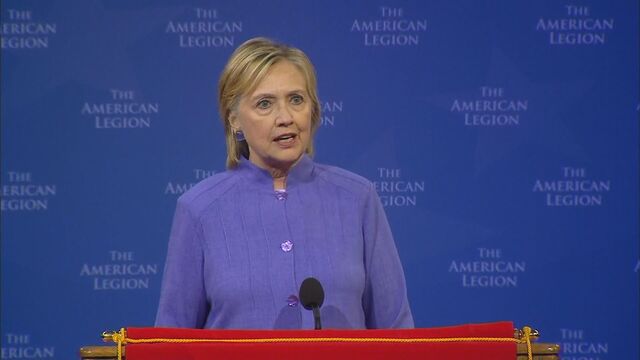 Democratic presidential nominee Hillary Clinton told a veterans' group that U.S. leadership is vital to the world and, drawing a contrast with Republican Donald Trump, said that means the White House is no place for a leader who insults allies or threatens to shrink from that role.
In making her case for the unique position of the U.S. as the linchpin in the war against terrorism and the spread of nuclear weapons, Clinton questioned her election opponent's temperament and qualifications, though she barely mentioned him by name.
"American leadership means bringing the world together to solve global problems as only we can," Clinton said in an address Wednesday at the American Legion's national convention in Cincinnati. "You don't build a coalition by insulting our friends or acting like a loose cannon."
She made reference to Trump's last-minute trip on Wednesday to meet with Mexico's President Enrique Peña Nieto, saying American leadership is "more than a photo op" and takes consistency and reliability.
"People have to get to know that they can count on you, that you won't say one thing one day and something totally different the next," Clinton said. "And it certainly takes more than trying to make up for a year of insults and insinuations by dropping in on our neighbors for a few hours and then flying home again. That is not how it works.''
Final Stretch
Both campaigns are positioning for the final stretch heading into the Nov. 8 election by focusing on the candidates' central message. For Clinton, that has meant emphasizing her experience, including on foreign policy and national security. The main issue that Trump used to reach this point is immigration. He's vowed to build a wall along the U.S.-Mexico border and crack down on immigrants in the U.S. illegally. He's scheduled to deliver a speech on the topic Wednesday night in Arizona and will address the American Legion on Thursday.
Clinton's campaign argues that Trump has rejected the idea of American exceptionalism -- a line of attack that Republicans had used against President Barack Obama -- because he has questioned the relevance of the North Atlantic Treaty Organization, suggested the U.S. should withdraw its protective shield for allies in Asia if they don't pay for more of their defense, and made statements in praise of Russian President Vladimir Putin.
Threats Abroad
Clinton, the secretary of state during Obama's first term, also said that instead of "making America great again" as Trump's slogan promises, his remarks suggest policies that would increase global risks.
"I believe we do have better days ahead. But things could also get worse: if more countries get nuclear weapons, if we abandon our allies, if our commander-in-chief orders our military to break the laws and commit torture or murder terrorists' family members," she said. "That is why it is so critical we get this right."
Clinton also proposed ending automatic spending cuts and caps that Congress has approved known as sequestration that she said are limiting needed military funding and making the U.S. less secure.
"I'm all for cutting the fat out of the budget and making sure we stretch our dollars," Clinton said. "But we cannot impose arbitrary limits on something as important as our military.''
Clinton said one of the first things she would do as president if elected is call for a new nuclear posture review and push for reducing nuclear weapons, and she also said she would treat cyberattacks "just like any other attack" and be "ready with serious political, economic and military responses.''
Addressing veterans concerned about getting treatment from the Department of Veterans Affairs, Clinton also vowed to speed up benefit appeals and to fight any efforts to privatize the agency.
New Endorsement
In conjunction with her speech, Clinton's campaign announced that she received the endorsement of James Clad, a former deputy assistant secretary of defense under President George W. Bush. He joins other national security officials backing Clinton, including Brent Scowcroft, who served as national security adviser under former Presidents Gerald Ford and George H.W. Bush, and former Deputy Secretary of State Richard Armitage.
"There is no choice,'' Clad said in a statement released by the campaign. "In razor sharp contrast to her opponent, Secretary Clinton is ready, steady and prepared. With a proven preference for bipartisanship, she must win this election.''
Clinton, who has been asking for Republicans to support her on grounds that Trump isn't fit for the presidency, also cited the letter released earlier this month by 50 Republican national security officials. It faulted Trump on his understanding of global affairs and said he "lacks the character, values and experience to be President.'' It also said he had "dangerous qualities'' and "would be the most reckless president in American history.''
"This election shouldn't be about ideology. It's not just have differences over policy," Clinton said in Cincinnati. "It truly is about who has the experience and the temperament to serve as president and commander in chief."
Before Wednesday's speech, Clinton had spent much of the final days of August out of public view and in posh vacation havens, preparing for the final two months of the campaign by fattening her campaign treasury and readying for debates with Trump that could be a critical factor in the race.
Clinton raised at least $32.8 million in a fundraising blitz through Martha's Vineyard and elsewhere in Massachusetts on August 20-21, a three-day swing through Hollywood and Silicon Valley last week and the past three days in the Hamptons.
Before it's here, it's on the Bloomberg Terminal.
LEARN MORE