business
Brexit Bulletin: How Britain Could Benefit from the Apple Ruling
The EU's sanctioning of Apple could be a boon for post-Brexit Britain.
By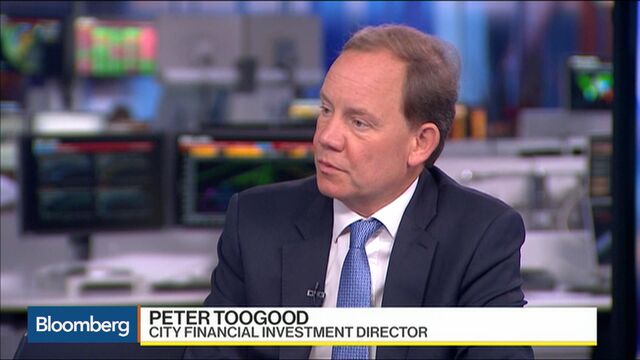 Sign up to receive the Brexit Bulletin in your inbox.
The European Union's attack on technology-giant Apple may herald an economic advantage for post-Brexit Britain. 
As Bloomberg's Ian Wishart reports today, with the EU ordering the world's richest company to pay Ireland a record 13 billion euros ($14.5 billion) in back taxes, the U.K. may have found a chance to reinvent itself as a fiscal paradise for multinationals. Such potential may make a corporate tax cut more appealing to U.K. Chancellor of the Exchequer Philip Hammond.
For more on Apple and the EU, try our explainer and our look at one of the burning questions the ruling has prompted.
Summer's Over
It's back-to-work time for those charged with leading the U.K. out of the European Union.

Prime Minister Theresa May gathers the Cabinet today at her country retreat, known as Chequers, for a brainstorming session and the presentation of plans. If–like the British government–you've been away in recent weeks, Bloomberg's Thomas Seal recaps all that happened over the summer.

The gathering opened with May telling ministers today that she won't try to keep Britain in the EU, reviving her now-famous mantra that "Brexit means Brexit" and making it clear that there will be no second referendum or attempt to "sort of stay in the EU by the backdoor."
Consumers Eager to Spend
Defying forecasts for retrenchment, U.K. consumers are still showing an eagerness to spend. 
Researcher GfK said its household confidence index jumped 5 points to -7 in August, regaining almost half the ground lost the previous month. A measure of how willing consumers are to make major purchases also improved after slipping in July, as did expectations for their personal finances. The report is the second in less than a week to show consumers are recovering from the initial shock of the Brexit vote.

House prices rose at the most in five months in August, according to Nationwide. That may nevertheless relate to a shortage of supply rather than increase in demand.
Signs of consumer strength are in contrast to a more mixed picture among executives. Lloyds Bank said its business barometer fell 13 points to 16 in August, and firms were the most somber about trading possibilities since December 2011. The headline index remains above its post-referendum low of just 6. 
Others warn that there's another story to look out for: among them, Chris Bryant of Bloomberg Gadfly prescribes a reality check for those who are optimistic about the economy.
Jargon-Busting
If banks can't win continued "passporting" rights to sell services and raise funds in the EU, they may have to accept "equivalence."
That obscure term means granting companies based outside the EU privileged but targeted market access, rather than the unfettered entry they enjoy now. John Glover explains what it all means, what's at stake, and how it may not thrill the bankers. 
Pay Up
Denmark told Britain it shouldn't be allowed to stop contributing toward EU projects that were started when it was a member.

"It's not just as if everything can continue, minus Britain," Danish Finance Minister Claus Hjort Frederiksen told Bloomberg. "The talks that lie ahead will touch on the fact that Britain will inherit a lot of things that are already under way, and they can't just turn their backs on those costs."
Question Mark Over U.K. Investments
Belgian chemical maker Solvay, which is investing at least 100 million euros in the U.K., will think twice about committing any more major funds to the country, according to Chief Executive Officer Jean-Pierre Clamadieu. 

"Long term, it will create some questions on where we should put strategic investments," Clamadieu told Bloomberg TV. "It will not be a positive for future investment in this country." 
On the Markets
JPMorgan Asset Management and ING Bank NV see an opportunity in the exodus from European shares brought on by Britain's secession vote.
ING's Simon Wiersma started buying stocks of the region's companies in July, and Stephen Macklow-Smith of JPMorgan Asset Management said he may invest more, after making some purchases following the U.K. referendum. The verdict on their bullishness has yet to be rendered: despite a rebound, the Stoxx Europe 600 Index remains below its pre-Brexit level.

Meanwhile, the pound headed for a fourth monthly decline against the dollar on speculation the Bank of England will seek to soften the economic blow of Brexit.
And Finally...
"If I need to go and grab jobs with my teeth, then I'll do it," Valerie Pecresse, head of the Paris region, said of how she'll try to lure companies to her region, where almost 700,000 people are unemployed. 
For more on Brexit follow Bloomberg on Twitter, Facebook and Instagram. For full coverage visit Bloomberg.com
Before it's here, it's on the Bloomberg Terminal.
LEARN MORE