Brazil in Little Rush to Cut Rates Amid Stubborn Inflation
By , , and
Communique highlighted need to hit inflation target in 2017

Economists expect next move to be a decrease by year-end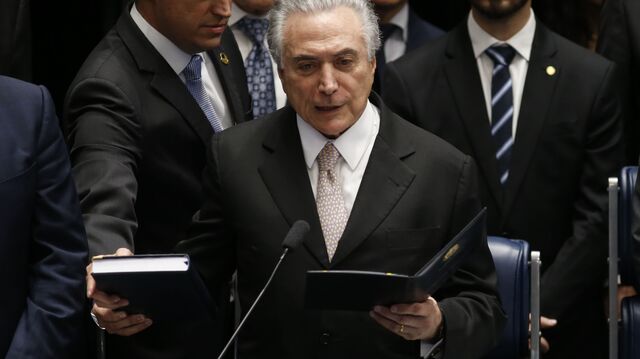 Brazil's central bank signaled it's in no hurry to cut the benchmark rate, as policy makers grapple with high inflation and the fallout from a presidential impeachment trial.
The central bank's board, led by its president Ilan Goldfajn, unanimously voted on Wednesday to maintain benchmark borrowing costs at a 10-year high of 14.25 percent. All 45 analysts surveyed by Bloomberg correctly forecast the so-called Selic rate. The board, known as Copom, indicated in a statement that it can't loosen monetary conditions until it has greater confidence it will reach its inflation target, which is almost half the current rate of 8.7 percent.
"With Copom still targeting 4.5 percent in 2017, it won't change the Selic rate any time soon," said Jorge Simino, chief investment officer at Funcesp, Brazil's fourth largest pension fund with 26.2 billion reais ($8.1 billion) in assets.
Yet the central bank tweaked the language of its statement, dropping a sentence that said there was "no room" for monetary easing. Swap rates fell as some investors interpreted the language change as opening the door to rate cuts as early as October. Yields paid on contracts maturing in January 2018 fell 17 basis points to 12.61 percent.
The decision came as Congress reached a final verdict on whether to permanently oust President Dilma Rousseff for breaking budget laws, in a process that lasted almost nine months. And earlier on Wednesday, a government report showed the economy shrank for a sixth straight quarter in the three months through June.
Difficult Job
Michel Temer, who succeeds Rousseff, now faces the difficult job of fixing an economy marked by declining retail sales, a drop in industrial production, a near-record budget deficit and surging consumer prices. Shortly after assuming the presidency on an interim basis in May, he appointed what Goldman Sachs Group, Inc. dubbed a "dream team" of economic experts to his cabinet, tasking them to revive confidence and contain inflation.

Goldfajn kicked off his tenure as Temer's central bank chief on several different notes. He announces the rate decision online, rather than having a press officer read it to reporters in Brasilia. The communique is also noticeably more detailed, with Wednesday's running five-times longer than his predecessor Alexandre Tombini's final statement in June.
In its communique, the board on Wednesday cautioned that inflation may remain higher than expected in the short term among steep food costs. It added, however, that the recession and fiscal-austerity measures could eventually take pressure off prices. Temer is trying to convince lawmakers to approve belt-tightening policies such as caps on public spending, though it's unclear how much goodwill he enjoys after impeachment proceedings.
Many economists are forecasting the more optimistic scenario will prevail, with inflation falling fast enough to allow Goldfajn to cut the Selic by 50 basis points in 2016, according to the central bank's weekly survey of analysts.
Policy makers "are preparing the path for a rate cut at the end of the year," according to Andre Perfeito, chief economist at Brazilian brokerage Gradual Cctvm. "But we're still at the start of that path, and the government will have to deliver."