ADP Says Companies in U.S. Added 177,000 Employees in August
By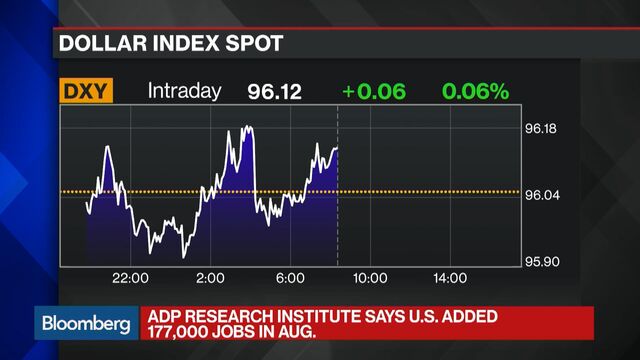 Companies added workers to U.S. payrolls in August in line with projections, contributing to signs of a steady labor market, data from ADP Research Institute in Roseland, New Jersey, showed Wednesday.
Key Points
Private payrolls climbed by 177,000 (forecast was 175,000) after a revised 194,000 gain in July that was more than initially estimated
Goods-producing industries, which include manufacturers and builders, reduced headcounts by 6,000
Service providers' payrolls rose by 183,000
Big Picture
Hiring managers are taking on workers to meet sales, evidence of sustained job-market progress that Federal Reserve officials will weigh when they meet in September to decide whether to raise interest rates. The ADP data may also help affirm economists' estimates of private payrolls for the August jobs report from the Labor Department due Friday. Such strength would support what analysts project will be a third-quarter growth pickup after a lackluster first half.

Economist Takeaways
"The American job machine continues to hum along," Mark Zandi, chief economist at Moody's Analytics Inc. in West Chester, Pennsylvania, said in a statement. "Job creation remains strong, with most industries and companies of all sizes adding solidly to their payrolls. The U.S. economy will soon be at full employment." Moody's produces the figures with ADP.  
The Details
Construction payrolls fell by 2,000
Factories showed no change in workforce
Employment in professional and business services increased by 53,000 and payrolls rose by 26,000 in trade and transportation
Companies employing 500 or more workers increased staffing by 70,000 jobs; payrolls rose by 44,000 at medium-sized businesses, or those with 50 to 499 employees; while small companies' payrolls advanced 63,000
— With assistance by Kristy Scheuble
Before it's here, it's on the Bloomberg Terminal.
LEARN MORE