technology
A U.S. Nuclear Reactor That Took 42 Years to Get Built Shuts After Fire
By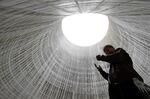 A U.S. nuclear reactor that only got up and running earlier this year after being delayed for decades has shut down following a fire.
Unit 2 at the Watts Bar complex near Knoxville, Tennessee, went offline automatically late Tuesday because of a transformer fire, Jim Hopson, a spokesman for plant operator Tennessee Valley Authority, said in an e-mail. There were no injuries as a result of the blaze, which has been extinguished.
The fire is the latest hurdle for a plant that took 42 years to get built amid competition from cheap fossil fuels and required safety upgrades in the wake of the Fukushima disaster in Japan. Low-cost natural gas is squeezing nuclear generators' profits, leading power producers including Exelon Corp. to announce plant closures or seek state subsidies.
"Our current focus remains on the safety of our personnel and the public as we determine the cause of the fire and any repairs necessary," Hopson said. He didn't provide a timeline for returning the unit to service.
Unit 2 connected to the regional power grid earlier this year after receiving a license from the U.S. Nuclear Regulatory Commission in late 2015. Power levels at the reactor have fluctuated in recent months as TVA conducts required testing to begin full commercial operations.
An inspector for the Nuclear Regulatory Commission visited the reactor site Tuesday, and the agency hasn't yet decided whether it will send a special inspection team, Roger Hannah, a spokesman for the agency in Atlanta, said by e-mail.
Watts Bar 2 was the first new U.S. reactor to connect to the grid since TVA, the largest public power utility in the U.S., started running Unit 1 in 1996. Unit 2 has a maximum summer capacity of 1,150 megawatts, commission data show.
Before it's here, it's on the Bloomberg Terminal.
LEARN MORE