Zimbabwe Plans to Dehorn Its 800 Rhinos to Thwart Poachers
by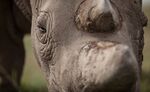 Zimbabwe plans to dehorn its 800 rhinos to thwart poachers who illegally killed more than 5 percent of the population of the animals in neighboring South Africa last year.
South Africa has the world's biggest rhino population with about 20,000 of the endangered animals and most of those are of the white variety. Zimbabwe predominantly has black rhinos, which are smaller and rarer as the World Wildlife Population estimates their global number in the wild at about 4,800. Both varieties are targeted for their horns, which some people in East Asia believe cure cancer and boost virility.
"Our strategy is to try and save the rhino, if the poachers know that the rhino at National Park here does not have horns, he is unlikely to come here and kill it," Cephas Mudenda, a board member of the Zimbabwe Parks and Wildlife Management Authority, said at a rhino dehorning exercise at Chivero Game Park, west of the capital Harare last week. "The intention is to cover the whole country by year-end if all goes well."
The parks department, which doesn't receive government funding, is working with donors to try and complete the program, which began this month, Mudenda said. So far, 45 rhinos have been dehorned. Poachers have killed nine rhinos in Zimbabwe this year.
Before it's here, it's on the Bloomberg Terminal.
LEARN MORE