Uber Hires Target Marketing Chief as President
Jeff Jones replaces Ryan Graves, a longtime executive, as head of operations and marketing.
By
Uber Technologies Inc. hired Target Corp. Chief Marketing Officer Jeff Jones to run global operations, marketing and customer support, enlisting a retail industry veteran to oversee the ride-hailing giant's main business.
Jones leaves Target to become Uber's first president of ride-sharing, making him second in command after Chief Executive Officer Travis Kalanick. Jones replaces Ryan Graves, Uber's first CEO and a current board member. Graves will continue to oversee human resources and nascent businesses, including food delivery and courier services.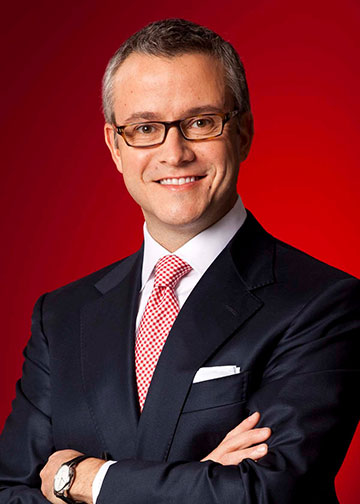 Uber's top ranks are dominated by loyalists, and the company has had some trouble retaining senior talent hired from the outside. Many executives on the operations team started off overseeing single cities for Uber. Rachel Holt, who now runs U.S. and Canada operations, helped launch Washington in 2011. Meanwhile, the high-profile addition of David Plouffe, the former campaign manager for President Barack Obama, as head of communications and policy lasted less than a year before he transitioned to chief adviser and non-voting board member. Brent Callinicos, who joined as chief financial officer from Google in 2013, stuck around for less than two years.
"Over the last six months, Ryan and I have become increasingly convinced that our rapidly growing marketing efforts needed to be far more integrated with our city operations," Kalanick wrote in a company blog post. "Marketing is about storytelling, about attracting, engaging and retaining customers."
Uber has struggled to build a beloved brand. Drivers complain publicly about their pay, and customers have been similarly vocal in their opposition to surge pricing and other policies they disagree with. Uber's reputation has been tied to its blustery co-founder and CEO, who has antagonized regulators and the taxi industry. Competitors play off this weakness, as Lyft Inc. has done in the U.S. with its pink mustache logo and friendly demeanor.
In each country where it operates, Uber vies for a finite number of drivers. The company deploys a mix of advertisements and subsidies to attract workers to its service. Uber operates nearly everywhere in the world outside of China, where it recently sold its business to homegrown ride-hailing company Didi Chuxing, and has left much of its marketing strategy to its local teams. By naming Jones president and putting him in charge of the company's operations, Uber will move to centralize its sprawling marketing effort.
Target Chief Executive Officer Brian Cornell said in a statement that Jones was an effective leader at the retail company. "He worked tirelessly to sharpen our focus on the guest and evolved our marketing capabilities to center on the important role digital plays in their lives," Cornell said.
—With Shannon Pettypiece
Before it's here, it's on the Bloomberg Terminal.
LEARN MORE