U.S. ELECTION WRAP: Pressure Mounts on Clinton Over Foundation Ties
Questions about State Department access for the foundation's donors remain a big distraction.
By and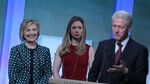 Donald Trump may consider the New York Times "a joke," but the newspaper and the GOP presidential nominee share concerns about the Clinton Foundation—and each has suggestions about its future.
The charitable group established by former President Bill Clinton should immediately ban contributions from foreign and corporate entities, the NYT editorial board wrote today
Trump last week called for the foundation to shut down; he and other Republicans have characterized the charity as a "pay-to-play" scheme that allowed rich donors and foreign governments to influence Clinton when she was secretary of state from 2009-2013

"'Pay-to-play' charges by Donald Trump have not been proved," NYT editors wrote. "But the e-mails and previous reporting suggest Mr. Trump has reason to say that while Mrs. Clinton was secretary, it was hard to tell where the foundation ended and the State Department began"
Trump and other Republicans were quick to pounce
"If you r a liberal democrat (@HillaryClinton) & @nytimes ed board is hammering u 70 days out you have a problem," Republican National Committee chief strategist Sean Spicer wrote in Twitter post
The editorial is a "devastating rebuke of Hillary Clinton's poor judgment and broken ethical compass," Trump spokesman Jason Miller said

Clinton is facing other headaches during this last unofficial week of summer:

The Democratic nominee's national lead over Trump has narrowed to 6 points compared to 8 points last week, according to a new NBC News/SurveyMonkey Weekly Election Tracking Poll (see details below)
The FBI may release as early as tomorrow its report to the Justice Department that recommended no charges in the Clinton e-mail server investigation, CNN reported, citing unidentified law enforcement officials
Also set to be released are the FBI agent notes from Clinton's voluntary interview at the bureau's headquarters;

A September 6 deadline was set today for government lawyers to disclose the number of newly discovered messages from Clinton's private e-mails servers that are related to the 2012 Benghazi attack—and how fast they can be cleared for public release, Bloomberg's Andrew Harris reported
Conservative watchdog group Judicial Watch submitted 25 questions about Clinton's e-mail server that she must respond to within 30 days, the group said in statement, citing a prior ruling by U.S. District Judge Emmet Sullivan
Click here to get the U.S. Election Wrap by e-mail every afternoon

DEBATE PREP
Clinton said she's readying for her first debate with Trump on September 26 by being prepared for anything

Maybe the GOP nominee will try to be presidential and attempt to "convey a gravity," or perhaps he will use insults to "score some points," Clinton said in remarks overheard by reporters at a private fundraiser yesterday in East Hampton, New York
"We have 71 days left in this campaign, and I'm not taking anything, anyone or any place for granted," Clinton said
"This is the most unpredictable electoral season that I certainly can remember, and I'm running against someone who will say or do anything"

As part of her debate prep, Clinton's aides are talking to the ghostwriter of The Art of the Deal in an effort to gain understanding of Donald Trump's insecurities, according to the New York Times

People floated by Clinton allies as good possible stand-ins for Trump during mock debates include billionaire investor Mark Cuban, political consultant James Carville, comedian Jon Stewart and actor Alec Baldwin, NYT said

Aaron Kall, debate director at University of Michigan and co-author of the forthcoming book Debating The Donald, said "given the high stakes and importance of practice," Clinton would be smart to choose Cuban to play the role of Trump during debate practice

"There are a countless number of similarities between Trump and Cuban," Kall wrote in an opinion piece in The Hill. "They are both self-made billionaires that say whatever is on their minds and have a penchant for controversy"

ON THE TRAIL
Clinton's running mate, Senator Tim Kaine, blasted Trump today for not releasing his tax returns

Trump "can't even get over the Nixon standard for ethics," Kaine said at rally in Erie, Pennsylvania., referring to former President Richard Nixon, who resigned from office amid the Watergate scandal

Clinton is to speak tomorrow to an American Legion convention in Cincinnati
Trump campaigns tonight in Washington state; tomorrow night he will be in Phoenix to outline his position on immigration, an effort to clarify questions surrounding his stance on the issue; NPR gave a brief rundown of his campaign's statements on the matter over the past week

POLLS
Clinton has an 8-point lead over Trump in Pennsylvania, 48%-40%, according to Monmouth University poll

Clinton has 48% support nationally, down 2 points from last week, while Trump is holding steady at 42%, according to NBC News/SurveyMonkey Weekly Election Tracking Poll
In a 4-way race, Clinton leads with 41%, a 4-point margin over Trump at 37%;  Libertarian Gary Johnson maintains 11% of the vote; Green Party candidate Jill Stein holds steady with 5%, the weekly poll found 

ETC 
The FBI is working "very hard to understand'' whether a foreign government is hacking U.S. systems to influence elections or other national affairs, Director James Comey said; see full story by Bloomberg's Chris Strohm here

Top House Democratic lawmakers sent a letter to FBI Director James Comey requesting that the agency "assess whether connections between Trump campaign officials and Russian interests may have contributed'' to possible Russian cyber attacks against the Democratic National Committee and Democratic Congressional Campaign Committee; see full letter here

The judge overseeing a California lawsuit accusing Trump of defrauding Trump University students said the billionaire may not file a new legal attack on an earlier ruling allowing students to sue as a group

 

CONGRESSIONAL ELECTIONS
TONIGHT'S PRIMARIES
AZ-SEN: Republican Sen. John McCain challenged by former state Sen. Kelli Ward, who's attacked five-term incumbent as "career politician" who backed Senate-passed rewrite of immigration laws in 2013; McCain, chairman of Armed Services Cmte, has touted his work to strengthen border security and his opposition to Obama administration's anti-terrorism strategy

Rep. Ann Kirkpatrick unopposed in Democratic Senate primary

AZ-01: Winner of multi-candidate GOP primary likely to face Tom O'Halleran, ex-Republican state legislator strongly favored in Democratic primary for Kirkpatrick's seat
AZ-02: Former state legislators Matt Heinz and Victoria Steele seeking Democratic nod to oppose one-term GOP Rep. Martha McSally in competitive Tucson-area district
AZ-04: GOP Rep. Paul Gosar, member of staunchly conservative House Freedom Caucus, opposed by Ray Strauss, a pastor and former Buckeye city councilman whose backers include super-PAC funded in part by the Western Growers Assn.; district includes swaths of western and central Ariz., is strongly Republican
AZ-05: Winner of four-candidate Republican primary strongly favored to succeed retiring GOP Rep. Matt Salmon in district that includes most of Mesa
Polls close at 10pm, Eastern time
FL-SEN: GOP Sen. Marco Rubio favored to defeat developer Carlos Beruff, Trump backer who's spent >$8m of his own money on race
Rep. Patrick Murphy favored over Rep. Alan Grayson and lawyer Pam Keith for Democratic nomination
Mitt Romney today sent out fundraising solicitation for Rubio, saying he's "a stalwart example of what conservative leadership in Washington should look like"
FL-01: Eight Republicans seeking nomination in overwhelmingly GOP panhandle district of Republican Rep. Jeff Miller, who isn't seeking re-election
FL-02: Winner of three-candidate GOP primary favored to succeed Democratic Rep. Gwen Graham, who declined re-election bid after court-ordered redistricting made her northern district strongly Republican
FL-04: Seven Republicans vying to succeed retiring GOP Rep. Ander Crenshaw in Republican-leaning district in state's northeastern corner
FL-05: Rep. Corrine Brown, indicted last month on fraud charges, vulnerable against ex-state Sen. Al Lawson in Democratic primary; reconfigured district links Brown's home base of Jacksonville to Lawson's home base of Tallahassee
FL-09: Grayson backing his new wife, biomedical researcher Dena Grayson, in Democratic race that also includes former Grayson aide Susannah Randolph, state Sen. Darren Soto; winner favored in Nov. election in central Fla. district that leans Democratic
FL-10: Four Democrats, including ex-Orlando police chief Val Demings, seeking nomination in strongly Democratic district in Orange County for open seat
FL-11: GOP Rep. Dan Webster seeking to succeed retiring Republican Rep. Rich Nugent after new map made Webster's FL-10 Democratic stronghold

Webster, who ran against John Boehner for House speaker in 2015, favored to defeat Justin Grabelle, Nugent's former top aide

FL-13: Republican Rep. David Jolly expected to beat one opponent and face Democrat Charlie Crist, Fla.'s GOP governor from 2007-2011 who lost to Rubio as an independent Senate candidate in 2010; redrawn district is more Democratic-leaning
FL-18: Six Republicans and three Democrats seeking politically competitive southeastern district Murphy giving up for Senate run
FL-19: With Republican Rep. Curt Clawson retiring, winner of three-candidate GOP primary favored to succeed him in southwestern district that includes Fort Myers and Cape Coral
FL-23: Debbie Wasserman Schultz, who resigned as Democratic National Cmte chairwoman last month after leaked e-mail scandal, opposed by Tim Canova, law professor and liberal activist who raised >$3.3m with support from Bernie Sanders
FL-26: Ex-Rep. Joe Garcia and businesswoman Annette Taddeo seek Democratic nod to oppose one-term Republican Carlos Curbelo, whose Hispanic-majority district in Miami region absorbed more Democrats after redistricting
Most polls close at 7pm, a few at 8pm, Eastern time
SENATE RACES
Vt. Sen. Bernie Sanders encouraged supporters of his presidential campaign to donate to four Democratic Senate candidates in potentially close races, Washington Post reported

Sanders backing Katie McGinty in Pa., Maggie Hassan in N.H., Ted Strickland in Ohio, Catherine Cortez Masto in Nev.

NV: Democratic Senatorial Campaign Cmte released TV ad saying GOP Rep. Joe Heck puts "Wall Street ahead of us" for supporting plan that would allow individuals to manage some Social Security payroll tax money in private accounts

Ad says "Wall Street invested over a half million dollars" in Heck's campaigns, a reference to Center for Responsive Politics analysis that he's received >$533k from political action committees and individuals associated with securities and investment industry; companies themselves did not donate
Heck and Cortez Masto competing for seat of Senate Minority Leader Harry Reid, who's retiring; seat is only Democratic-held one analysts rate as competitive in Nov. 8 election

OH: National Republican Senatorial Cmte released TV ad of woman portraying traveling TV reporter who blames Democrat Ted Strickland for loss of 8,000 jobs to Kentucky during his time as Ohio's governor

Senate Majority PAC is canceling some pro-Strickland TV ads, The Hill reported, and the Democratic Senatorial Campaign Cmte is delaying some ads as Strickland "has struggled to raise the requisite funds to keep pace" with GOP Sen. Rob Portman, Washington Post reported
RealClearPolitics average of recent polls show Portman leading by 7.5 pts

PA: Senate Majority PAC released TV ad saying GOP Sen. Pat Toomey voted "to protect tax breaks for companies that ship our jobs overseas" and for seven trade deals that "crippled our economy"

Ad cites Toomey's votes in favor of extending normal trade relations treatment with China in 2000, Andean Trade Preference Act in 2002, trade pacts with Singapore and Chile in 2003 -- all while Toomey was House member -- and, as senator, accords with Korea, Panama, and Colombia in 2011
Singapore and Chile pacts were backed by 75 House Democrats including Nancy Pelosi
Toomey's campaign in statement said he "consistently supported trade policies that promote Pennsylvania jobs and products while fighting to end bad trade practices like currency manipulation, steel dumping, and government loans to foreign competitors"
McGinty campaigned today with Democratic vice-presidential nominee Tim Kaine in Erie
HOUSE RACES
NY-23: Democrat John Plumb in TV ad highlighted his military background, said he'll work to boost economy by "investing in training and education" and "making college more affordable"

Plumb opposing GOP Rep. Tom Reed in district that includes parts of western N.Y. and state's southern tier

PA-08: Democratic state Rep. Steve Santarsiero and Republican ex-FBI agent Brian Fitzpatrick held debate today on WBCB radio in Levittown

Winner will succeed Fitzpatrick's brother, retiring GOP Rep. Mike Fitzpatrick, in suburban Philadelphia district that was about evenly divided between Obama and Romney in 2012 election
Before it's here, it's on the Bloomberg Terminal.
LEARN MORE