Templeton's Hasenstab Finds Haven in Emerging-Market Assets
by and
Michael Hasenstab is bullish on Brazil, bearish on euro, yen

Developing-market local-currency bonds returned 15% this year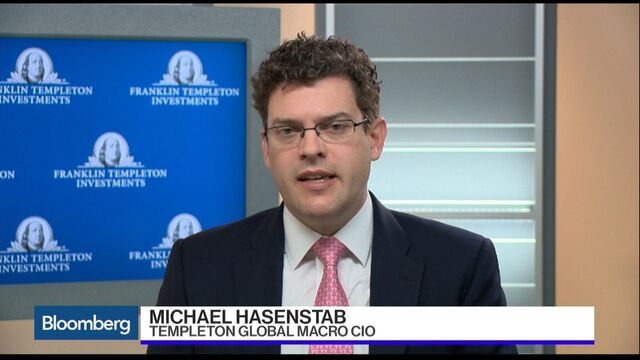 From negative interest rates to Brexit, what used to be unthinkable events have now turned into hard realities.
In this new economic world, emerging markets are becoming a surprising haven, according to Franklin Templeton bond manager Michael Hasenstab, who beat almost all his peers for years until making wrong-way bets on the yen and Treasuries. While his preference for developing-nation assets isn't new -- he anticipated the rally back in October -- Hasenstab is building his case further by putting them in contrast to the political discord in Europe and the U.S.
"Politically, we've actually seen a greater degree of stability across most emerging markets than we see here in the U.S., or in Europe with the rise of populism and nationalism on the back of stagnant real income growth," Hasenstab, the chief investment officer at Templeton Global Macro Group who oversees about $130 billion, said in an interview with Bloomberg Television on Tuesday. "Most emerging markets continue to endorse more orthodox policies, which make our investments more secure."
Record Money
After three years marked by slowing growth and currency depreciation, developing economies are recovering as countries including Argentina and Brazil push through reforms to restore investor confidence. The nascent signs of economic revitalization have helped attract a record amount of money to developing nations as investors seek alternatives to negative yields in Europe and Japan.
Emerging market local-currency bonds have returned about 15 percent in dollar terms this year, after losing a total of 27 percent in the previous three years, according to JPMorgan Chase & Co.'s benchmark index. Brazil's real-denominated bonds led the rally, gaining 49 percent on optimism the impeachment of President Dilma Rousseff would pave the way for a new government to revive the economy.
Hasenstab correctly predicted the rally, saying in October that currencies such as the Mexican peso, the Malaysian ringgit and Indonesia's rupiah represented opportunities not seen for decades. He sold his bond holdings in Ireland and Hungary last year and redeployed the capital to Latin America, including Brazil, a move which proved to be prescient.
'Toxic Policies'
"Once you take away some of those toxic policies, Brazil has great potential, and that's started to unfold," Hasenstab said in the interview.
His flagship $45 billion Templeton Global Bond Fund has returned about 8.2 percent annually over the past 15 years, beating 98 percent of its peers, according to Morningstar Inc. The fund is down 0.9 percent in 2016, underperforming 97 percent of its competitors, as his wagers that the yen would decline and U.S. Treasury yields would rise offset gains in emerging markets.
Hasenstab said he's holding on to those losing bets. With 10-year yields at about 1.57 percent, Treasuries are too expensive as inflation may rise to 3 percent later this year, he said. In Japan, the economy is crumbling under the weight of the yen's strength. That may prompt policy makers to take action to reverse this year's 17 percent appreciation in the yen, he said.
Hasenstab is also expecting his bets against the euro will turn in his favor because the U.K.'s vote to exit the European Union in June highlights "the lack of a political will" for the euro area to stay together. The euro fell 0.4 percent to $1.1143 Tuesday, trimming its gain this year to 2.6 percent.
"Because of the refugee crisis, because of terrorism, because of stagnant economies the rise of populism, nationalism -- the very things that would chip away at the euro zone project are only going to grow," he said.
Before it's here, it's on the Bloomberg Terminal.
LEARN MORE