Swedish Central Bank Seen Readying Changes to Inflation Regime
By
Changes considered to price gauge, introducing tolerance band

Bank says important change is well received by market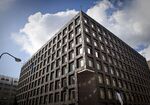 There's growing speculation Sweden's central bank will reintroduce an interval for its inflation target as well as change its price index, paving the way for it to start rolling back the record stimulus unleashed over the past two years as it battled deflation.
"Stefan Ingves began talking about this in spring," said Torbjoern Isaksson, chief analyst at Nordea Bank. "That a central bank governor again and again talks about a reintroduced tolerance band is a clear signal that it could happen."
After years of below-target inflation, the central bank in early 2015 embarked on a record stimulus program that included bond purchases to pump more money into the economy and cutting its key rate far below zero. And inflation is now ticking up, signaling that it's winning the battle, which could hand policymakers leeway to rejigger the inflation regime.

The bank meets next week again on interest rates and will announce its decision on Sept. 7.
In a speech in April, Ingves also opened up for a change in the inflation gauge the bank aims for, saying that the bank would complete a review of whether to reintroduce the tolerance band within 6-12 months. 
At the bank's latest policy meeting in July, Ingves argued that it's impossible to exactly adhere to a 2 percent target and that it's "perfectly sufficient" to be near the goal. Reintroducing "some kind of interval around 2 percent would facilitate discussions," he said, according to minutes published from the meeting.
In a parliament-appointed review of the Riksbank published in January, former Bank of England Governor Mervyn King said that parliament should decide on the target and that CPIF is a better measure than CPI.
CPIF strips out mortgage costs and the effects of rate cuts. In reality, the bank's board also already looks more at CPIF than CPI, so the impact would be limited.
Changes Agreed?
According to First Deputy Governor Kerstin Af Jochnick, the bank is preparing to present an analysis of different indexes in the autumn. It's having "a broad discussion" on the tolerance band and will seek further input because "it's important that this will be well received in the market," she said after a speech.
"I think the board members more or less agree on that they'd like to change the target variable to CPIF or HICP," said Olle Holmgren, an economist at SEB AB. 
While the near-term effects on policy of changing the gauge will be minor, combined with the reintroduction of the tolerance band it would mean more flexibility and damp the need for stimulus. 
Nordea, for example, predicts that inflation, measured in both CPIF and the so-called harmonized HICP index, will remain within plus or minus 1 percentage point of the 2 percent target both this year and the next.
Annual CPIF was at 1.4 percent in August and CPI was at 1.1 percent.
"In the short term, it could mean that the Riksbank doesn't add more stimulus even if inflation is below the 2 percent target," Isaksson said. "If the tolerance band was made wider than plus or minus 1 percentage point, which can't be completely excluded, that would of course be more important for monetary policy."
Damaged Credibility
Anna Breman, chief economist at Swedbank, said that it would be ill-timed by the bank to go back to an interval now because it would damage credibility in the target and be perceived as a signal of a tighter monetary policy, which would drive the krona higher.
The Riksbank has said that it can reintroduce the tolerance band without having to wait for a parliament decision.
A changed gauge, on the other hand, may be something that it would want to get approval from parliament for, according to Isaksson at Nordea. "They'd probably want to get the finance committee on board on this," he said.
The government is about to start a review of the Riksbank law based on King's recommendations that is expected to be concluded in 2018.
Af Jochnick said that the bank's analysis of gauges "may be of help if the review to be appointed by the government wants to include it."
"Changing the inflation target variable now could be politically sensitive given the review," Breman said. 
Before it's here, it's on the Bloomberg Terminal.
LEARN MORE