Summer's Over for Brexit Indecision as May Convenes Her Cabinet
By
Premier may face pressure at G-20 meeting for details of plans

Early economic data begin to show picture of post-vote U.K.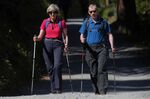 It's back-to-school time for those leading the U.K. out of the European Union.
Fresh from holidaying in the Swiss Alps, Prime Minister Theresa May marks the end of summer on Wednesday when she gathers cabinet members and top officials for talks at her country residence before she jets to China to meet her Group-of-20 counterparts at the weekend.
The premier and ministers such as chief Brexit negotiator David Davis have chosen not to flesh out in public details of what they will seek in breaking from the EU. Their silence is unlikely to be maintained, as they will soon face pressure from international colleagues, fellow lawmakers, investors and executives to define what May really means when she says "Brexit means Brexit."
Here's what did emerge over the past month:
When Will The Horse-Trading Begin?
May is sticking with her pledge not to trigger two years of formal divorce talks before 2017, allowing her government time to form a negotiating stance.
While newspaper reports suggested she may not even invoke Article 50 of the bloc's Lisbon Treaty until the end of next year, her team is leaning toward opening talks by April at the latest, two British officials told Bloomberg in mid-August.
Such a timescale would mean the process was under way by the time of elections in Germany and France, while not unduly testing the patience of pro-Brexit campaigners at home who are already warning against procrastination.
The Daily Telegraph newspaper reported that May plans to start the talks without seeking parliamentary approval to do so; her spokesman said on Tuesday that lawmakers will "have a say" on Article 50. It's not clear, however, if that means a vote.
German Chancellor Angela Merkel said she "can allow the time" for the U.K. to decide what it wants, though she and colleagues have warned against excessive delay.
One voice of experience says this is all hasty talk: a negotiator who took Greenland out of the EU in 1985 says Britain's extraction from the bloc will take "much longer" than the three years it took his government.
What Will Withdrawal Look Like?
The U.K. would like to crack down on immigration, regain greater control of its laws and avoid paying much into the EU budget.
In doubt is how much access it wants to the single market, which would force it to dilute some of those ambitions.
A lawmaker from Merkel's team said the U.K. would have to pay into the EU budget to maintain the trade ties with the bloc it now enjoys.
Britain can't have access to the single market without accepting the "four freedoms," above all the free circulation of people and labor, French President Francois Hollande said on Tuesday. Other governments have taken a similar stance.
That's lending weight to the idea that the U.K. may eventually end up with a "Canada Plus" model in which it agrees a free-trade deal for goods and bolts on provisions for services such as banks. Another model that's attracted attention is Norway's membership of the European Economic Area, though that would require some ground to be given on immigration and the budget.
Chancellor of the Exchequer Philip Hammond has resisted proposals from Davis and Trade Secretary Liam Fox that the U.K. dump the single market and focus on securing broader trade deals, according to the Telegraph.
A Bloomberg analysis revealed most of the 27 remaining member states have other demands, ranging from fishing to shipping, that may run counter to what the U.K. wants.
Hammond did make a commitment to guaranteeing U.K. government money until 2020 in place of EU subsidies for farms, as well as funding for projects already approved at universities and businesses.
The City of London's Future
Big banks with tens of thousands of staff in London are already deep into contingency planning, with some ready to start the process of moving jobs from the U.K. within weeks of the government opening up Brexit talks.
Such plans suggest skepticism within the industry that the U.K. will be able to maintain so-called passporting, which allows international banks to have bases in Britain yet sell their services and raise money elsewhere within the EU.
Such benefits are solely for full members and the rights are "not negotiable," according to German lawmaker Michael Fuchs, an ally of Merkel.
While the Financial Times reported bank lobbyists had "given up hope" of maintaining universal access and were recommending a Swiss-style series of access deals, British Bankers' Association Chief Executive Officer Anthony Browne said on Aug. 19 that "the banking sector unequivocally wants to maintain the current level of full access to the EU market."
Companies including Royal Bank of Scotland Group Plc, Societe Generale SA and UBS Group AG used Brexit as a reason to once again soften their financial targets. France, Germany and even Poland sent emissaries to London in a bid to woo talent to their financial centers.
How Has The Economy Fared?
The worst predictions for the U.K. economy haven't materialized. The first official statistics since the referendum produced better-than-forecast numbers from the labor market and retail sales, confounding expectations of a sudden slowdown.
Still, London housing has cooled since the vote, with sales dropping to their lowest since 2008.
Joe Grice, chief economist at the U.K.'s statistics office, said it's too early to get a definitive read on the economy. He told Bloomberg Television on Aug. 19 that "the story is still to unfold," noting that there's limited information so far on business activity and trade.
Click here for Bloomberg's tracker of Brexit's impact on businesses.
Concerns about weaker demand still prompted the Bank of England to cut its key interest rate on Aug. 4 -- the first such action since 2009 -- and to restart bond-buying.
Bloomberg Intelligence economists expect further easing and a rate cut to 0.1 percent in November, if their projections for a slowdown hold.
BOE policy makers announce their next decision on Sept. 15, around the same time that data for industrial production and trade figures for July -- the first full month after the referendum -- will be published.
Whither Scotland and Northern Ireland?
Even after arguing Brexit justified a second possible independence referendum, Scottish First Minister Nicola Sturgeon has continued to make the case for the U.K. staying in the EU. Her government predicted a cut in tax revenue of as much as 13 percent by 2030 once Britain leaves the bloc.
Members of the Northern Ireland Assembly filed a lawsuit seeking a judicial review of the exit process -- in addition to a case already on its way to the U.K. Supreme Court that argues invoking Article 50 is illegal.
Market Movements
Holders of U.K. government bonds emerged among the biggest beneficiaries of the Brexit vote, with demand surging after the BoE eased policy. The yield on the benchmark 10-year gilt yield dropped to a record-low 0.50 percent on Aug. 15, from as high as 1.40 percent on the day of the referendum.
Sterling, the main barometer of investor sentiment as it swung ahead of the referendum, reached its weakest level since 1985. While it has since stabilized and even had bouts of strength as some data releases signaled a resilient economy, it's still down 12 percent versus the dollar since June 23, the worst performer among major currencies.
While European stocks recovered all of their post-Brexit declines by Aug. 11, the Stoxx Europe 600 Index has since struggled to find a clear direction. But just as the benchmark fluctuated between losses and gains in the past weeks, the U.K.'s FTSE 100 Index has continued to soar ahead. It's up for a third month, gaining about 14 percent since its low after the vote, and is Europe's best-performing equity index this year.
Sign up to receive the Brexit Bulletin, a daily briefing on the biggest news related to Britain's departure from the EU.
— With assistance by Lukanyo Mnyanda, Scott Hamilton, and Stephen Morris
Before it's here, it's on the Bloomberg Terminal.
LEARN MORE