Photographer: Red Huber/TNS via Getty Images
SpaceX to Reach Another Milestone With Re-Use of Rocket Booster
by
Launch of SES satellite is planned for 2016's fourth quarter

Rocket recycling is part Musk's plan to cut costs, reach Mars
SpaceX plans to relaunch a used Falcon 9 booster later this year, the first time the company led by Elon Musk will refly a recovered rocket stage.
The rocket will carry an SES SA satellite into orbit in the fourth quarter, SpaceX and the Luxembourg-based customer said in a statement Tuesday. 
"Relaunching a rocket that has already delivered spacecraft to orbit is an important milestone on the path to complete and rapid reusability," Gwynne Shotwell, SpaceX's president and chief operating officer, said in the statement. "SES has been a strong supporter of SpaceX's approach to reusability over the years and we're delighted that the first launch on a flight-proven rocket will carry SES-10."
Space Exploration Technologies Corp. made history in December when it landed a Falcon 9 booster on a pad in Cape Canaveral, Florida, shortly after launching a commercial satellite. In April, the closely held company nailed a much harder landing on a drone ship floating in the Atlantic Ocean. Now that recovering the rocket boosters has become somewhat routine, re-flying them is the next step.
The companies didn't say how much SES will pay for the mission, while acknowledging that the price will be discounted. The typical cost of a Falcon 9 launch is roughly $62 million, according to the pricing guide on the company's website.
Recovering and reusing the 14-story-tall boosters is part of Musk's plan to lower SpaceX's launch costs, already the industry's cheapest.
Musk, who is chief executive officer of the rocket-launching company as well as Tesla Motors Inc., founded SpaceX in 2002 with the goal of revolutionizing spacecraft and making interplanetary travel possible. SpaceX plans to send an unmanned Dragon spacecraft, the first of several Red Dragon flights, to Mars as soon as 2018.
SpaceX has said it plans to fly 18 missions this year, triple the number in 2015. A launch scheduled for Saturday from Cape Canaveral of Amos-6, an Israeli communications satellite, will be the company's ninth of the year.
Watch Next: Five of the Most Important (and Awesome) SpaceX Launches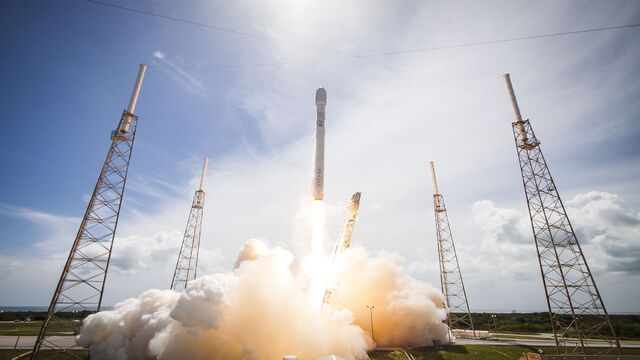 Before it's here, it's on the Bloomberg Terminal.
LEARN MORE