South African Treasury Says Eskom Resists Gupta Firm Probe
By
Department accuses utility of ignoring correspondence

National Treasury is reviewing Eskom's coal contracts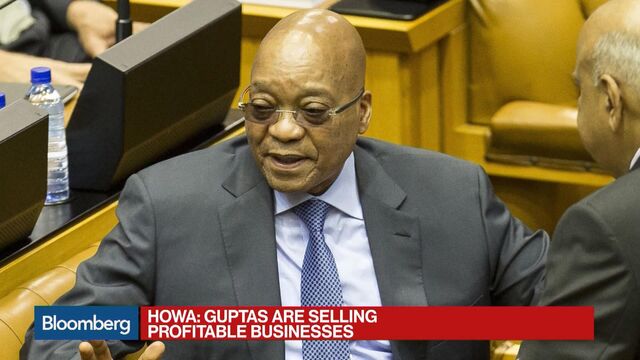 South Africa's National Treasury said state-owned utility Eskom Holdings SOC Ltd. is resisting its efforts to review coal-supply contracts with Tegeta Exploration & Resources Ltd. and ignores the department.
"The National Treasury would like to categorically state that its efforts have met resistance," it said in an e-mailed statement on Monday. The department has made attempts over the past four months to get information from Eskom, including a list of payments made to Tegeta and invoices received from the company between September and April. Eskom has failed to submit comments on a Treasury report into the utility's coal contracts and ignored correspondence, it said.
Tegeta is part-owned by the Gupta family, who are friends with President Jacob Zuma and in business with his son. The Treasury is reviewing the coal contracts of Eskom, which maintains that it has been cooperating with the investigation. Tegeta wasn't targeted, Treasury Chief Procurement Officer Kenneth Brown said on Johannesburg-based Power FM.
"A company or entity that is doing business with government and has nothing to hide should be transparent and should welcome reviews of its dealings with the state," the Treasury said.

The department's statement follows a week of political and market turmoil after reports Finance Minister Pravin Gordhan could face arrest. Opposition parties and analysts have speculated that Zuma may use a police investigation into Gordhan to install a more compliant head of the National Treasury and reassert his authority.
Precarious Position
"The Treasury admonishment of Eskom and the related linkages to the Guptas show just why Gordhan's position is so precarious and why the knives are out for him," Daniel Silke, director of Political Futures Consultancy in Cape Town, said by phone. "This is a very public display of defiance from the embattled finance minister who seems to be resisting apparent intimidation and the possibility of criminal action against him."
The Treasury said its director-general, Lungisa Fuzile, asked Eskom in a letter to withdraw a statement that said all coal contracts by Tegeta have been audited by agencies including the department. The utility said on June 12 the contracts were "extensively" examined.
Eskom said on Twitter on Tuesday that it will deliver the documents immediately even though its board hasn't reviewed them. Earlier it said the Treasury was being unreasonable.
The Gupta family announced Aug. 27 that they plan to sell all shareholdings in South Africa by the end of the year.