Seriously, Don't Come to Work If You're Sick
Nobody wants you and your gross germs.
By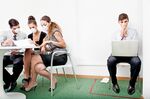 There's nothing more selfish you can do than come to work sick . You may get a gold star for showing your sniffling face at the office and soldiering through the workday to prove your value—but everyone around you just gets sick. You're an inconsiderate work hazard.