Reformer Macron Quits French Cabinet With Eye on 2017 Vote
By and
38-year-old ranks No. 2 in popularity among French politicians

Primary races gather pace as 2017 presidential vote approaches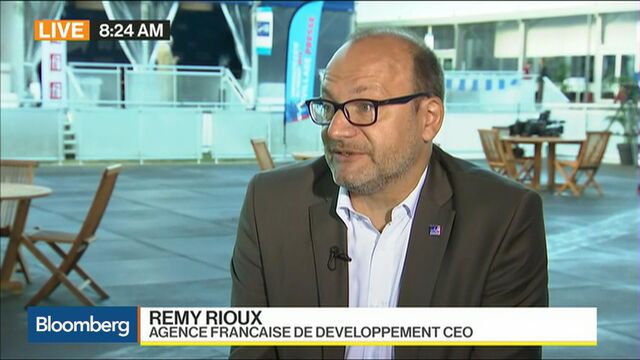 Emmanuel Macron resigned from his job as President Francois Hollande's economy minister, fueling speculation he's planning to enter the race to replace his former boss next year.
The 38-year-old former investment banker stopped short of declaring himself a candidate in the 2017 election, saying he left the government so he could be free to develop his ideas for repairing France's ailing economy and increasingly bitter social divisions.

"I've reached the limits of our political system, which imposes last minute compromises and produces imperfect solutions," Macron said Tuesday at a press conference in Paris. "We don't have the right to think that our political organization is immutable. That would hand the country over to extremes."
The second-most popular politician in the country has kept France on tenterhooks about a potential bid for the presidency since April. He appeared on the front of Paris Match magazine with his wife and made a string of ambiguous statements about his future since creating his own political movement "En Marche," which can mean "On the Move" and "Let's Get to Work." At a major rally in Paris in July he pledged "victory" in 2017, without specifying exactly what he intends to win.
The race to replace Socialist Hollande has intensified. Thirteen candidates are chasing the nomination of the main opposition party, The Republicans, and former Socialist minister Arnaud Montebourg has also pledged to run, if necessary. Though Macron isn't a card-carrying Socialist, he's carving out a space as a pro-business politician on the left.
"No president has ever been so unpopular this close to an election, so appetites have been whetted for alternatives," said Yves-Marie Cann, a pollster at Elabe in Paris. Macron can see "that there may be a window of opportunity" that he needs to take advantage of, she said.
About 37 percent of voters say they have a "positive" view of Macron, with only former Prime Minister Alain Juppe ahead at 44 percent, according to an Elabe poll published Aug. 4. Juppe is competing with former President Nicolas Sarkozy to win the presidential nomination for The Republicans. Sarkozy garners a positive view from 26 percent of voters, according to the poll.
Potential Confrontation
While Macron has avoided clarifying what role he intends to play in the presidential race, in July he said he wants to set out a full program for France by the end of this year. The first round of the presidential election is in April, with a runoff in May.
By lining up a bid, Macron is moving closer to a potential confrontation with Hollande, who has yet to outline his own future plans.
During his time in Hollande's administration, Macron called for the end of the 35-hour work week, no more jobs-for-life in the civil service and the elimination of the wealth tax. As minister he also cut business taxes, let more stores open on Sundays and loosened labor laws.
Macron said Tuesday that he plans to lay out his "diagnosis" of what ails the country in late September.
"We have set up En Marche to create the profound transformation of our political system," he said. "This debate needs a leader, and I need to be free to give a diagnosis of France while removed from the fray. That's not compatible with belonging to a government and the solidarity necessary to be a minister."