Post-Brexit Unity on Show as U.K. and France Pledge Closer Ties
By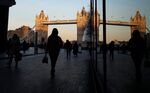 Britain and France pledged to strengthen cooperation over terrorism and border controls in the French port of Calais, in a display of cross-channel unity following the U.K.'s decision to quit the European Union.
U.K. and French authorities will boost intelligence sharing, work more closely on investigations and push for stronger regulations on weapons, the two countries said in a joint statement Tuesday after U.K. Home Secretary Amber Rudd and her French counterpart Bernard Cazeneuve met in Paris. They also agreed to strengthen security around French ports along the English Channel, and the entrance to the Channel Tunnel linking the two nations.

"Effective U.K.-France cooperation remains crucial in addressing the shared threat we face from terrorism and extremism, as well as addressing the current challenges posed by the migratory flows to Europe," the two governments said in a statement posted on the U.K. Home Office website.
In the wake of the Brexit vote, French politicians including former President Nicolas Sarkozy have suggested that France should revoke the Touquet agreement allowing the U.K. to carry out border checks on the French side of the English Channel. That's prompted concern that Britain could face an influx of asylum seekers.
About 7,000 migrants are now present in Calais, about 5,000 of them without housing, according to the Home Office. Many of those live in a makeshift camp that's become known as the "Jungle," and make daily attempts to reach Britain by stowing away on trucks or attempting to get into the rail tunnel linking the countries. The U.K. has contributed 100 million euros ($112 million) to beef up security in and around the ports and tunnel entrance, while French authorities provide 1,000 officers day and night to patrol the area.