Oil Supermajors' Dividends at 'Massive Risk' From Slump: Analyst
by and
Largest producers to distribute $40 billion next year

Exxon expresses unwaivering commitment to maintaining payouts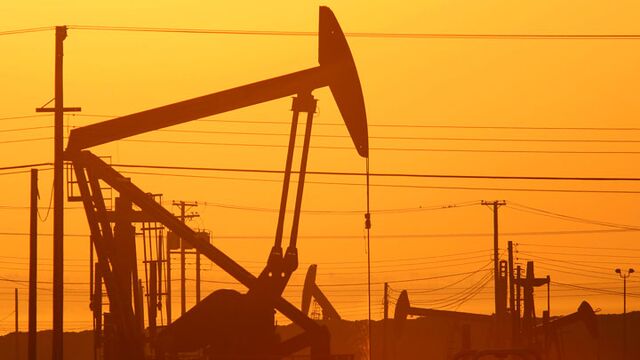 The world's biggest oil producers may struggle to make more than $40 billion in annual dividend payouts to investors as the worst crude collapse in a generation stretches into its third year, said Chris Kettenmann of Macro Risk Advisors.
Without a recovery in oil prices from the current sub $50-a-barrel level, major energy explorers will have to increasingly cannibalize drilling budgets to ensure they have enough cash to cover dividend commitments next year, Kettenmann, chief energy strategist at the New York-based brokerage, said in a Bloomberg Television interview.
The oil industry has canceled $1 trillion in exploration and construction projects since crude markets began a downward spiral from above $100 a barrel in June 2014. Hundreds of thousands of workers have been fired and billions of barrels of discoveries written off to conserve cash; among the largest producers, only dividends have been shielded from austerity measures.
"There's massive risk to the dividend structure of these big oil companies over the next 12 months," Kettenmann said.
The world's five largest publicly-traded explorers -- Exxon Mobil Corp., Royal Dutch Shell Plc, Chevron Corp., Total SA and BP Plc -- are on track to distribute more than $40 billion in dividends during the next 12 months. Kettenmann singled out Exxon's $12 billion in annual payouts as susceptible.
Best Use?
"They might be able to borrow to pay it but it raises this question about sources and uses of capital," Kettenmann said. "Are you really growing value within the company spending $12 billion a year on share distributions versus investing in projects that are generating a rate of return for investors?"
Exxon, the world's largest energy producer by market value, increased its quarterly payout by 2.7 percent on April 27, a day after S&P Global Inc. stripped the company of the gold-plated credit rating it had held since the Great Depression. Exxon remains "committed to sharing the corporation's success directly with shareholders through the dividend," Vice President Jeffrey Woodbury said during a July 29 conference call with analysts.
Before it's here, it's on the Bloomberg Terminal.
LEARN MORE