business
Oil Tumbles Most in Month After U.S. Crude Stockpiles Advance
By
U.S. crude supplies rose 2.28 million barrels last week: EIA

Crude imports increased to highest level since September 2012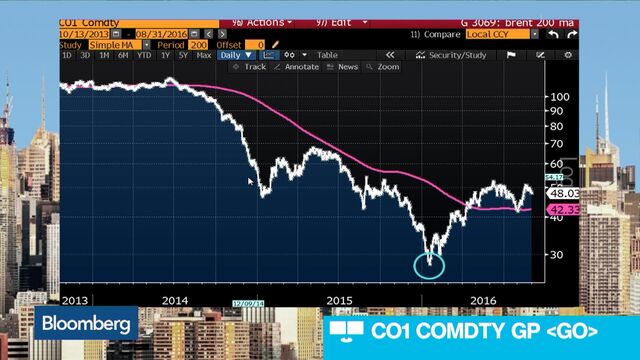 Oil dropped the most in almost a month after a government report showed that U.S. stockpiles increased last week by more than projected.
Crude inventories climbed 2.28 million barrels, according to the Energy Information Administration. A 1.3 million-barrel gain was projected by analysts surveyed by Bloomberg before the report. Imports rose to the highest in almost four years as output slipped. Oil capped a monthly advance as OPEC's planned talks fan speculation it could reach an accord on output.

Oil entered a bull market Aug. 18, less than three weeks after tumbling into a bear market. A production limit would be positive for the market, Saudi Arabia's Energy Minister Khalid Al-Falih said in an interview last week, while ruling out an actual cut. A freeze deal between members of the Organization of Petroleum Exporting Countries and other producers was proposed in February but a meeting in April ended with no final accord.
"This is a bearish report and you see the market reacting," Rob Haworth, a senior investment strategist in Seattle at U.S. Bank Wealth Management, which oversees $133 billion of assets, said of the EIA numbers. "OPEC can't continue to jawbone the market with these fundamentals. They will have to do something at this upcoming meeting to keep it together."
West Texas Intermediate for October delivery dropped $1.65, or 3.6 percent, to $44.70 a barrel on the New York Mercantile Exchange. It's the biggest decline since Aug. 1 and was the lowest close since Aug. 12. Futures climbed 7.5 percent in August, the biggest monthly gain since April. Total volume traded was 7.8 percent below the 100-day average at 2:52 p.m.
Energy Shares
Brent for October settlement, which expires Wednesday, slipped $1.33, or 2.8 percent, to $47.04 a barrel on the London-based ICE Futures Europe exchange, and closed at a $2.34 premium to WTI. The more-active November contract fell $1.84 to $46.89.
Energy companies led losses in the Standard & Poor's 500 Index. The S&P 500 Oil & Gas Exploration and Production Index fell 2.5 percent.
Iraq's Prime Minister Haidar Al-Abadi said Tuesday the country would support a proposal among major producers to freeze output. The prolonged decline in prices over the last two years is hurting the country, Al-Abadi said in Baghdad.
In August, "prices ran up too much on OPEC rumors and speculation," said Matt Sallee, who helps manage $15 billion in oil-related assets at Tortoise Capital Advisors in Leawood, Kansas. "The shorts were scared by the OPEC talks speculation."
Ample Inventories
U.S. crude supplies expanded to 525.9 million in the week ended Aug. 26, the highest in two months, according to EIA data. Inventories reached 543.4 million barrels in the week ended April 29, the highest since 1929. The stockpiles are at their highest seasonal level in more than 20 years. 
Crude imports increased 275,000 barrels a day to 8.92 million last week, the highest since September 2012, the report showed. Production slipped 60,000 barrels a day to 8.49 million.
Gasoline supplies slipped 691,000 barrels to 232 million last week, the lowest since the first week of the year. Stockpiles of distillate fuel, a category that includes diesel and heating oil, rose 1.5 million barrels to 154.8 million, the highest since May.
Counting Exports
U.S. weekly fuel demand was overstated in the first half of the year as the EIA undercounted exports. The agency's estimates each week of crude and fuel exports were an average of 16 percent too low from January through June, according to its website. 
The EIA calculates demand for gasoline, distillate and other fuels based on refinery production, imports, exports and the change in supplies. Beginning this week, the agency changed the way it estimates exports to use more current data. Total fuel demand was 20.15 million barrels a day, down 2.8 percent from the prior week. Gasoline demand fell 1.5 percent to the lowest since April.
Oil-market news:
Schlumberger Ltd. is expecting the drilling market to get worse in the third quarter thanks to a further deterioration in deep-water work around the world.
Saudi Arabia, the world's biggest oil exporter, won't boost output to capacity and flood the market, Al-Falih said in an interview with Al-Arabiya television.
Before it's here, it's on the Bloomberg Terminal.
LEARN MORE