Oakbay Says Guptas Received 'Harsh' Treatment in S. Africa
by and
Gupta family to sell all South Africa businesses in 2016

Guptas have been accused on using Zuma friendship for gain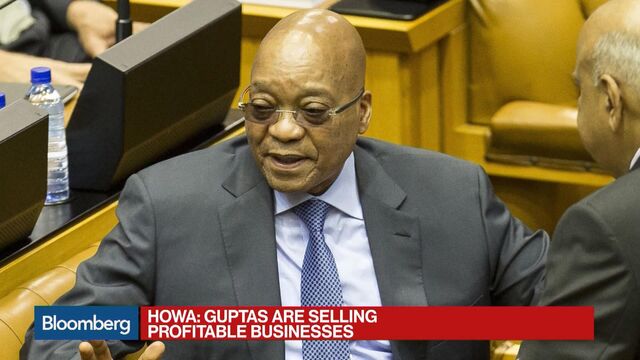 The Gupta family, owners of Oakbay Investments and friends of South African President Jacob Zuma, has been subjected to "cruel and harsh" treatment from the media, contributing to the decision to sell their local businesses, the company's chief executive officer said.
There has been "tangible" interest from an international investor for the assets, Oakbay CEO Nazeem Howa said Tuesday in an interview on Bloomberg TV. While the decision by the Guptas, which have holdings ranging from coal mining to media, has nothing to do with politics, media criticism has harmed the companies, he said.

"They have been singled out for some really cruel and harsh treatment for a family that came in and invested all of their funds in this country," he said. "I think the shareholder's view is if they were out of the way perhaps it would be easier for the businesses."
To watch the full interview with Bloomberg TV, click here
The family made the surprise announcement on Aug. 27 that it will exit all its interests in South Africa by the end of the year. Zuma, who has described the Guptas as friends while denying claims that they wield political influence, is facing a public backlash over a police investigation into Finance Minister Pravin Gordhan, who oversees the Treasury, which is probing a Gupta-related company's coal contracts with a state utility. Zuma's son Duduzane is in business with them and one of his wives has worked for them.
Howa said he respects Gordhan as finance minister.
'Toxic Environment'
Criticism of Zuma has intensified since police last week asked Gordhan, 67, to appear at their offices over allegations including setting up an illicit investigative unit while he headed the national tax agency. Gordhan, who refused to go to the police, denies any wrongdoing.
Oakbay Investments owns 80 percent of Oakbay Resources & Energy Ltd., a gold and coal mining company listed on the Johannesburg Stock Exchange. Other businesses include closely held Sahara Computers, a heavy-equipment supplier, a safari lodge, a television news channel and a national newspaper.
"There's never a right time to sell a business, but we've had some interest from some international parties," Howa said. "We'd be crazy to close our eyes just to one party, so we will consider other offers as well."
Oakbay Resources fell 28 percent to 15 rand a share by 12:38 p.m. in Johannesburg, the biggest decline since Feb. 10 on a closing basis. The stock dropped on a single transaction of 235 shares.
The media has created a "toxic environment" for the Guptas, making it difficult for the businesses to operate, Howa said.
Cabinet Posts


Atul Gupta was non-executive chairman of Oakbay Resources and Varun Gupta was chief executive officer until both stepped down in April after South Africa's largest banks said they would close Oakbay-related accounts.
The announcement that the Guptas plan to sell their interests comes about five months after senior officials from the governing African National Congress alleged that the family offered them cabinet posts, fueling speculation about how much influence the Guptas had over Zuma, 74. The Guptas deny any wrongdoing. Zuma has said that only he has the authority to appoint ministers.
(A previous version of this story corrected the CEO's name.)
Before it's here, it's on the Bloomberg Terminal.
LEARN MORE