Most Brazil Stock Funds Missed the Rally Right in Their Backyard
by
As Rousseff impeachment nears conclusion, locals ready to buy

Local fund purchases may bolster index as foreigners retreat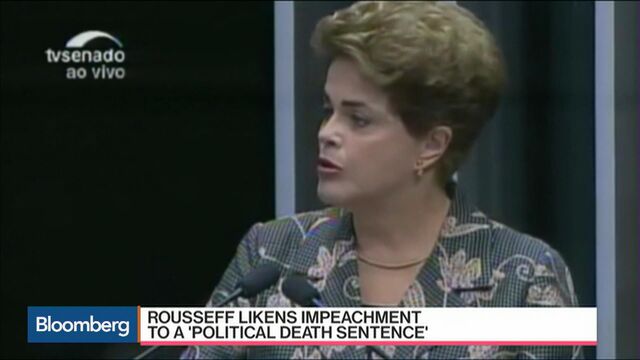 Brazilian stock funds largely missed out on this year's world-beating rally and are piling into local equities now, a move that some analysts and investors say will prop up the market just as foreigners retreat.
Fewer than one-fifth of Brazil-based stock funds have outperformed the benchmark Ibovespa gauge's 35 percent surge this year, the worst ratio since 2009, according to data compiled by Bloomberg. As locals lost out, foreign investors poured in a net 15.7 billion reais ($4.3 billion) this year on optimism the impeachment of President Dilma Rousseff would make way for a new government to rein in a budget deficit and revive the economy.

That dynamic is starting to change.
Foreigners have pulled 1.5 billion reais out of Brazilian stocks in August, the first net withdrawal in three months, according to BM&FBovespa, which operates the bourse. While the exchange doesn't break out purchases by investment funds, data show that Brazilian individual investors now account for 20 percent of all trades, the most in two years.
"They're rushing to buy," said Guilherme Affonso Ferreira, a partner at Sao Paulo-based Teorema Investimentos, which has 300 million reais under management. "Clients began to ask for their stake in the rally."
Ferreira's funds have beat the benchmark this year. He blames Brazilians' up-close-and-personal view of the unfolding political chaos for persuading many locals to sit on the sidelines. Whether those same folks still have time to get in on the rally remains to be seen. Investors including Rio Bravo Investimentos and Goldman Sachs Group Inc. say the optimism surrounding Rousseff's ouster, which the Senate is expected to make permanent in a vote this week, is largely priced in.
Rousseff was suspended in mid-May and Vice President Michel Temer took over her post while she faces an impeachment trial on allegations she mismanaged the federal budget. Investors cheered as he put together a market-friendly economic team lead by central bank head Ilan Goldfajn, a former Itau Unibanco Holding SA economist, but now they want to see his proposals turn into reality.
James Gulbrandsen, who helps oversee 600 million reais of Latin American stocks as a portfolio manager at NCH Capital Inc. in Brazil, is among those that missed some of the gains and has shifted strategy, betting that increased confidence in the turnaround will help prop up the index, which is already trading near a two-year high.
He's favoring companies with a market value of less than $1 billion, figuring they have more room to rally than the large companies that saw some of the biggest gains this year.
"I'm very optimistic that the rally after the government change may last for years as the reforms go through," Gulbrandsen said. "We're positioned to take part in the huge rally we forecast."

Before it's here, it's on the Bloomberg Terminal.
LEARN MORE