Merkel Says Germany Should Have Acted Sooner to Aid Refugees
By
'Germany will still be Germany,' Merkel tells Sueddeutsche

Voter disaffection may play out in state elections next month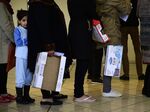 Chancellor Angela Merkel conceded failings in Germany's approach to waves of migrants arriving at Europe's door: it should have done more to accommodate them a decade ago.
Merkel, in an interview with the Munich-based newspaper Sueddeutsche Zeitung published late Tuesday, defended her decision to admit more than 1 million refugees last year even as neighboring countries threw up barriers and razor-wire fences. In fact, Germany had "ignored the problem for too long," she said.
"As far back as 2004 and 2005 a lot of refugees arrived, and we left Spain and others at the external borders to deal with it," the chancellor was cited as saying. "After we'd taken in so many refugees during the Yugoslav wars, Germany was very happy that it was now up to others to handle," she said. "But that's just not on."
Merkel has been pilloried at home and by erstwhile European allies for her stance on admitting asylum seekers. Her approval rating sank and the anti-immigration Alternative for Germany party has surged after a series of attacks committed by refugees in July unsettled the public and fanned political opposition.
With another 300,000 asylum seekers expected this year, that voter discontent threatens to play out in two regional elections next month, in Berlin and her home state of Mecklenburg-Western Pomerania, before the next federal election in the fall of 2017.
Merkel refused to accept any direct link between refugees and terrorism in the interview. While it's "completely understandable" that people are worried following the attacks, "it's simply wrong that terrorism has arrived with the refugees," she said.
The chancellor also stood by her often-repeated phrase "Wir schaffen das" -- "We can do this." Even after the integration of hundreds of thousands of refugees, "Germany will still be Germany, with everything that we hold dear," Merkel said.