U.S. Vows to Review Visa-Fee Hikes India Calls Discriminatory
by
Raised guest-worker visa fees damage industry, India says

Complaint raised at Strategic & Commercial Dialogue in Delhi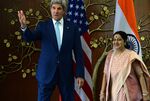 U.S. Commerce Secretary Penny Pritzker promised to look into India's concerns about moves to increase fees for a type of guest-worker visa held predominantly by the country's citizens.
During talks with Pritzker and Secretary of State John Kerry in New Delhi, India's foreign and commerce ministers said the U.S. decision to hike fees for H-1B and L-1 visas -- almost 70 percent of which are held by Indians -- damaged Indian industry and might hurt "mutual trust" between the nations.
"The United States recognizes the enormous contribution of foreign workers to our economy, including workers from India, and increasing U.S.-India business-to-business ties has been one of our highest priorities," Pritzker said Tuesday at the annual Strategic and Commercial Dialogue in New Delhi.
The omnibus U.S. spending bill for this fiscal year, Public Law 114-113, tacked on thousands of dollars of fees to guest-worker visas that critics say let companies replace American citizens with lower-paid foreign workers. India's government calls the decision discriminatory. The U.S. has a "cap" of 65,000 H-1B visas per year, but exemptions are allowed in cases such as people holding advanced degrees. Legislation is being offered this year in the House to further restrict the visas.
Political Debate
Debate over guest-worker visas has also entered the U.S. presidential election debate. Republican nominee Donald Trump has promised to suspend the H-1B visa program if elected. He also says companies should raise the pay of employees with H-1B visas.
"Raising the prevailing wage paid to H-1Bs will force companies to give these coveted entry-level jobs to the existing domestic pool of unemployed native and immigrant workers in the U.S., instead of flying in cheaper workers from overseas," Trump says on his website.
Discussion about the visas in New Delhi marked a moment of discord during a day of talks in which the U.S. and India repeatedly championed their growing economic and strategic relationship. The annual event is part of U.S. efforts to open a market of 1.3 billion people and press India's government to quicken moves easing limits on outside investment.
The U.S. also hopes to see expanded civil-nuclear cooperation that would lead to new reactors bringing electricity to tens of millions more people, Kerry said at the opening session. The two nations also signed a cybersecurity framework to protect against global threats, and vowed new efforts to fight climate change.
'Renewed Relationship'
"I think we are witnessing a moment that defines for certain a very different and renewed relationship between the United States and India," Kerry said. "India and the United States are more deeply engaged on more important issues than at any time in the history of our relationship."
Kerry said that the U.S. and India reached an agreement earlier Tuesday on financing to help India meet what he called its "ambitious" renewable energy targets. Foreign Minister Sushma Swaraj also asked that the U.S. enact policies that would let Indian ships launch U.S. commercial satellites.
On the strategic side, the U.S. and India agreed to boost cooperation against terrorism and will share intelligence on extremists and potential threats. They urged Pakistan to clear out terrorist safe havens.
Despite talk of closer trade, neither side mentioned a Bilateral Investment Treaty in the opening ceremony. Negotiations for such a deal have been slowed by disagreements over market access, intellectual property rights and legal protections. So-called model texts the two sides have developed for such deals are now far apart.
India was the ninth-biggest trading partner for the U.S. last year, with total commerce of about $66 billion, according to data compiled by Bloomberg.
"A high-standard U.S.-India BIT would provide real economic benefit to both of our countries and would significantly boost India's efforts to attract us investment," Pritzker said. "But it's not in anyone's interest, or either of our interests, to negotiate an agreement that doesn't meet those high standards."
Before it's here, it's on the Bloomberg Terminal.
LEARN MORE