ICBC Halts Bad-Loan Increases With $6.3 Billion of Write-Offs
Bloomberg News
Nonperforming-loan ratio declines for world's biggest bank

Chairman Yi tells of 'race' to dispose of bad credit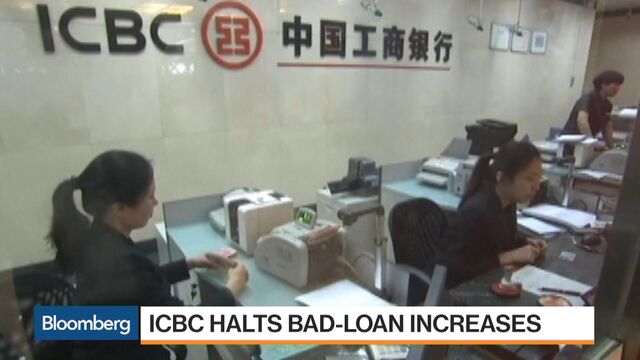 Industrial & Commercial Bank of China Ltd., the world's biggest lender by assets, reported the first decline in its bad-loan ratio since 2012 in the second quarter as the bank raced to dispose of nonperforming credit.
ICBC wrote off 42 billion yuan ($6.3 billion) of loans in the first half, 35 percent more than a year earlier, an earnings statement showed Tuesday. Nonperforming loans as a proportion of total credit declined to 1.55 percent in the second quarter from 1.66 percent in the first.
"It's a race of NPL formation against NPL disposal," Yi Huiman, ICBC's chairman, told analysts at a briefing in Beijing. "So we need to make sure we step up our efforts to control new NPL formation and dispose of NPLs to maintain stable asset quality."
The bank will next month join a trial program for selling securities backed by bad loans, Yi said.
Investors are focused on the risks to China's banks and economy from a rapid build-up of corporate debt and by bad loans among so-called "zombie" state-owned enterprises.

Lenders have stepped up sales and write-offs of nonperforming loans and expanded lower-risk mortgage lending.
While ICBC turned back the rising tide of bad debt, its provisions for future impaired credit remained below a regulatory minimum level of 150 percent of existing nonperforming loans. Yi said that regulators understood the bank's "counter-cyclical" approach, which meant using more of the provisions when necessary.
Analysts say China's official nonperforming-loan numbers -- already at the highest level in 11 years -- are understated and some speculate that banks will need to be recapitalized in coming years.
ICBC eked out 1 percent profit growth in the second quarter. The other big state banks reported these gains:
Bank of China Ltd.: 3.4 percent
Bank of Communications Co.: 1.3 percent
China Construction Bank Corp.: 0.9 percent
Agricultural Bank of China Ltd.: 0.5 percent


ICBC's Yi said it was too early to call a turning point for bad loans. In contrast with ICBC's improvement, Bank of China's nonperforming loan ratio rose to 1.47 percent, up from 1.43 percent in the previous quarter.
Among other key numbers from ICBC and Bank of China earnings reports Tuesday:
ICBC's net income rose to 75.45 billion yuan, matching the median estimate in a Bloomberg survey
Bank of China's 46.4 billion yuan profit exceeded a median 45.1 billion-yuan estimate
ICBC's bad-loan coverage ratio was 143 percent -- up from 141 percent in the previous quarter
ICBC's nonperforming loans fell 4 percent to 196.3 billion yuan at the end of June from three months earlier
— With assistance by Jun Luo, Alfred Liu, and Heng Xie
Before it's here, it's on the Bloomberg Terminal.
LEARN MORE